How to Create the Effective Email Marketing Strategy: the Best Guide and Tips
1. What is an email marketing strategy?
2. Importance of email marketing strategy
3. How to create an effective email marketing strategy template?
4. How to use email marketing strategies for the customer journey
5. The most common email marketing strategy mistakes
Useful tools:
1. Newoldstamp - Email signature marketing
2. Mailchimp - Email builder and sender
3. Reply.io - Personal email outreach, calls, and tasks
4. Mailtrack - Email link opens tracking
5. Canva - Online tool for making designs
You can do many things with emails. These include selling products or services, sharing news, decreasing a shopping cart abandonment rate, or telling a story.
Emails sent unsystematically, without a clear purpose, and with no link to other advertising activities are unlikely to bring any significant effect.
To be sure you make the most out of your email marketing efforts, you need to create a strategy that defines the goals of using the email channel. Ideally, you should have a separate document. It can be really handy in case you want to make any adjustments to your email marketing campaign strategy.
What is an email marketing strategy?
An email marketing strategy is a set of goals and a step-by-step action plan to achieve these goals. This plan serves as a direct channel of communication with potential buyers and customers to promote the brand.
Importance of email marketing strategy
An email marketing strategy is a significant part of your overall marketing efforts and a business plan. A well-planned email strategy is important because it can give you the following benefits.
It works as a tool for your business
With an email marketing strategy, a business can plan when to send time-based promotions or non-promotional emails.
It makes your email campaigns successful
Email marketing strategies contain a detailed plan for how companies can achieve their goals. It is important for a business to define marketing objectives ahead of time in order to manage email campaigns. Also, email marketing strategies allow marketers to measure the effectiveness of launched campaigns.
It helps you find the best email tactics
When you follow the best email marketing strategy practices, you know which tactics are most effective and which ones don't work for you.
You might also like: "How to Build Brand Awareness With Email Marketing."
How to create an effective email marketing strategy template?
Now let's go over the essential steps you need to follow to build a successful email marketing strategy.
#1 Define and set your email marketing goals
Decide what you are going to achieve with your email campaigns. Set the right goals. These might include increasing customer engagement, growing customer loyalty, increasing ROI, maintaining relationships with your audience.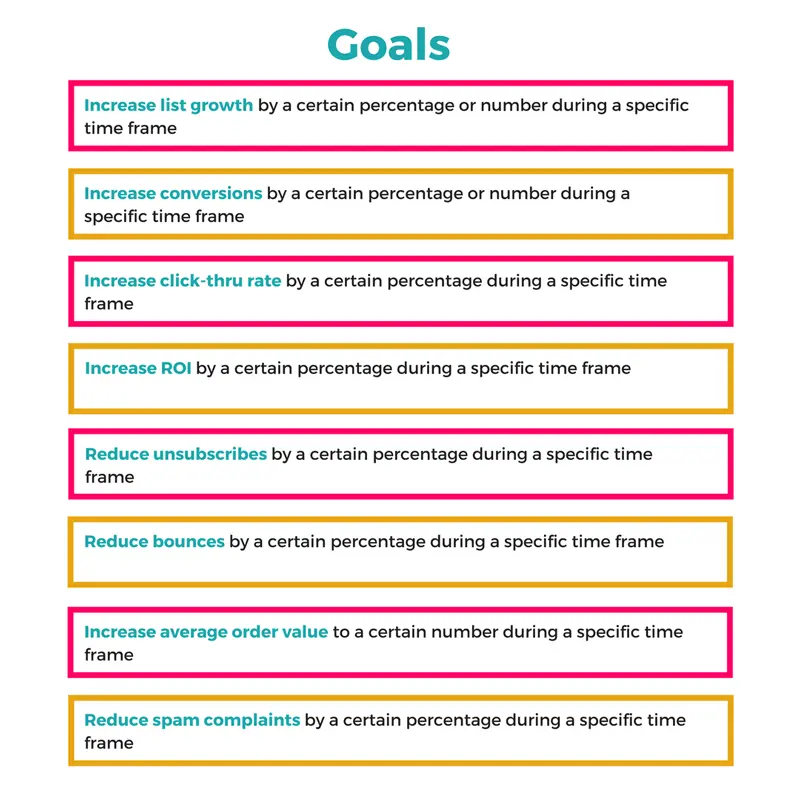 source: Jennymiranda
#2 Choose the best email marketing tools
Choosing the right tools is a vital step in setting up an email marketing strategy. A marketer needs a reliable ESP (Email Service Provider) to automate everything. The most popular ESPs are Yespo, Mailchimp, ActiveCampaign, Campaign Monitor, Drip, GetResponse, Sendgrid. Check our blog post for more.
A bonus tool Newoldstamp.
Every email sent by you and your team is an excellent marketing opportunity. Everybody in your organization can use the empty space below their contact information to increase the level of trust, promote the best content, showcase special offers, invite for a meeting or event, and much more.
Just visit Newoldstamp and create a professionally-looking email signature for you and the entire team. After you install these signatures in your email clients, they will appear at the bottom of every email you send.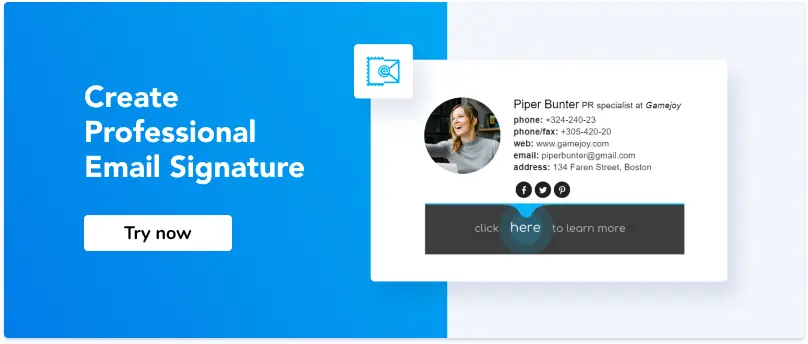 #3 Identify your target audience
What audience are you dealing with? What are their interests, occupation, age, gender, pain points, etc.? Develop a profile of your ideal customer.
#4 Choose the appropriate list building tactics
There are several ways to build a subscription base for your business. If you have a stack of business cards after attending a conference, you can write emails reminding recipients where you met and how you can be of help. Invite them to subscribe to your mailing list.
Another common way of collecting email addresses is using subscription forms and pop-up windows, offering website visitors to leave their address in exchange for something of value.
You can also get customers' email addresses by processing incoming calls or from social networks.
#5 Create segments for your mailing list
Segmenting is an effective way that allows marketers to send targeted email campaigns that depend on the recipient's age, gender, interests, location, behavior, etc. Without proper segmentation, it is impossible to make your emails more customized and personalized.
Learn how to personalize emails.
#6 Decide which types of emails you need to send
Keep in mind that with users at different stages of the sales funnel, communication needs to be built in different ways. Contacts that haven't been active for a long time shouldn't be messaged too often. On the contrary, most active subscribers are more likely to read your email. You can schedule more email campaigns to be sent to those recipients. If a user is close to the Purchase stage, you might need to provide some content that will help to convince the recipient to place an order.
In general, you need to prepare various types of relevant content for users being on various stages of the funnel.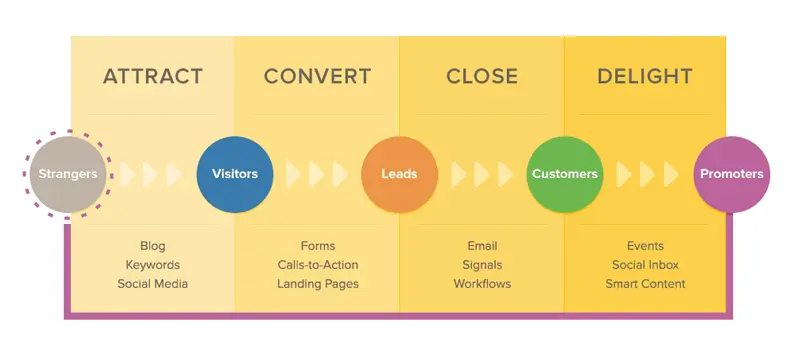 source: Automizy
In this article, you will find more information about types of content to use and CTAs you can include for each stage of the sales process.
#7 Create email sending schedule
Figure out what is the best time for sending emails and schedule all of them using email marketing automation tools.
#8 Write proper email content and CTAs
There are a few essential indicators of good content. It should be relevant, well-designed, and concise. However, what works for one audience might not work for another audience. Therefore, you should always test everything.
The same applies to email design. You can spend hours creating a sophisticated template, and then find out that your recipients are more likely to read a short text on a white background. In other words, your target audience dictates what your email campaign should look like.
Initially, you should strive for minimalism and conciseness: most users are lazy, and they don't want to delve into the message for a long time.
Recipients should easily understand who sent the email just by looking at it.
And don't forget about CTAs. But bear in mind that the more options a user gets, the more chances they won't take any action at all.
#9 Optimize your emails for various devices
Most emails are read today on mobile devices. That's why it's so critical to make sure your emails look good on them too. Here are some rules to follow:
Write short subject lines;

limit the width of the message to 500-600 pixels;

stick to single-column templates;

use small images.;

Use clear CTAs and make sure recipients can easily tap on them with a finger;

Use a large font (13-14px).

Test emails on multiple mobile devices.

#10 Protect your emails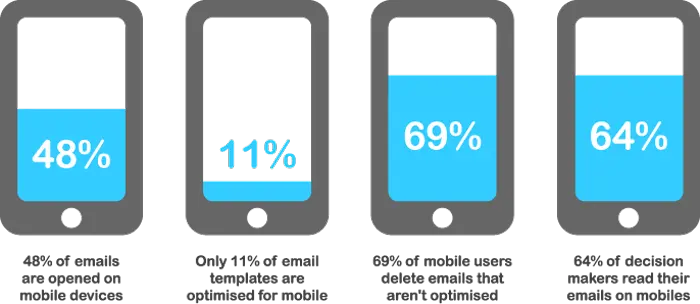 source: Etongseo
Make everything to protect your emails from spam. Never reply to spam messages, download spam filtering tools and anti-virus software, and never share or post your email address publicly.
Test, test, test. Only this way, you will determine what attracts your subscribers more, what subject lines and CTAs work best. You can also check what type of emails your audience prefers (short or long), what days of the week people read your mailings more actively, etc.
source: Everlytic
#12 Monitor and analyze email performance reports
Based on reports and feedback, you can analyze and track open, unsubscribe, click-through rates, etc. You need to know what to improve in future campaigns.
How to use email marketing strategies for the customer journey
It's important to define the customers' journey before you plan any email mailings. This will allow you to send your recipients the right message at the right time.
Acquisition email strategies
Joining your email list or following your business on social networks typically occurs after a customer has learned about your brand. At this stage, they may be trying to find more information about your brand alongside a couple of your competitors. So, it's vital to make the best possible impression with well-thought-out welcome series of emails. At this point, you can tell subscribers more about your business, set expectations about what they will see in your mailings, provide coupon codes, and gather more information about them (for example, their preferences or a birthday).
Consideration email strategies
At this stage, a person is almost ready to buy but maybe has some doubts. For instance, a customer may add a few items to their shopping cart in your online store. Then they suddenly close the tab and abandon their cart. If you deliver the right content at the right time, you can make this sale happen. So, take the time to prepare nice automated abandoned cart emails to be sent at this stage of the customer journey.
Purchase email strategies
Don't stop your mailings after the customer places an order. Communication plays an important role at the point of sale. You can send order notifications, "thank you for your purchase" emails, product follow-up emails, etc.
Retention email strategies
If your goal is to keep your customers, don't forget to get in touch with them after they made a purchase. Consider providing them with exclusive content, offering discounts (for example, customer birthday coupon code), asking them what they think about your product/service, and thanking them when they give you feedback.
Re-engagement email strategies
You probably don't believe inactive subscribers can even purchase from you. But don't be so quick to delete these contacts from your database. Remember that even inactivity can be a touchpoint on a customer's journey. So, what can you do with such contacts? Try highlighting the anniversary of a person's subscription and sending a special offer. This way, you will remind unengaged subscribers how important they are to your business.
Referral email strategies
Sharing your referral program with your customers and showing them all the benefits that they can achieve with you is another great way to get more new customers.
The most common email marketing strategy mistakes
Everyone makes mistakes, but often these mistakes are the best lesson. Here are the most common email marketing strategy mistakes you should avoid.
Mistake #1: Not segmenting email lists
First, we may not have input data (other than email addresses), but later after you sent a few mailings, you need to start analyzing the mailing results. Check if the user opened or didn't open the email, clicked or didn't click on the CTA, and so on. That will allow you to segment your subscribers for future mailings.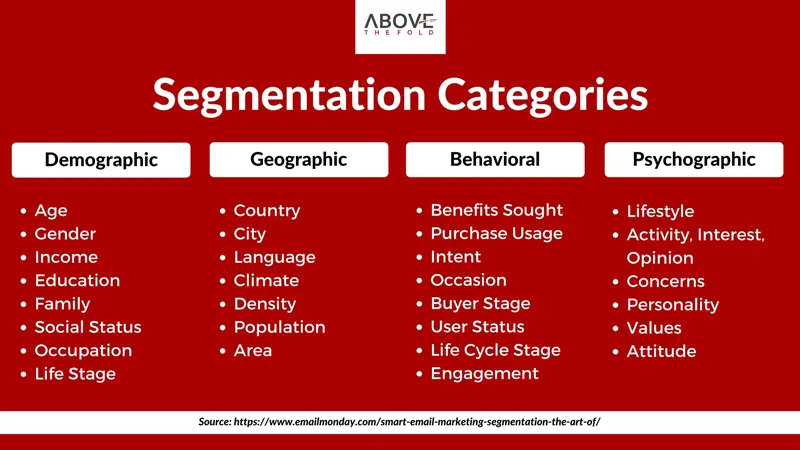 Mistake #2: Including misleading information in a subject line
Avoid inconsistency between a subject line and email content. The subject should convey the essence of what the recipient will see when they read the email. For example, you can't talk about a chair in the subject line, but offer a table in the email.
Mistake #3: Not using automated solutions/tools
Email marketing automation is now more of a business necessity than an additional tool. If you don't use it, you are risking to send irrelevant, untimely emails.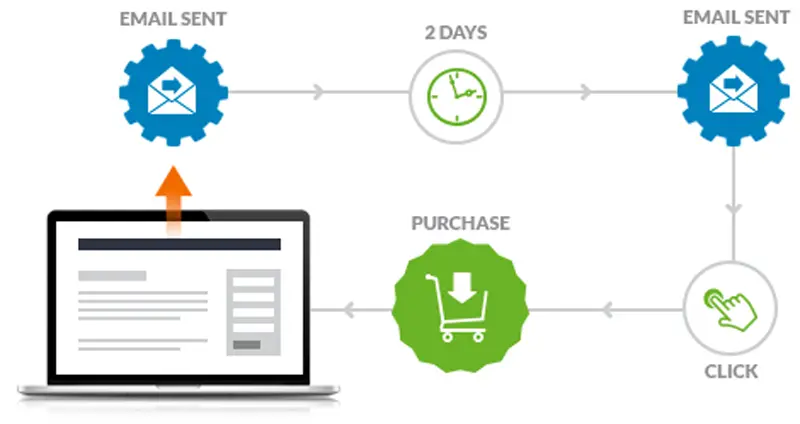 source: Smejoinup
You might also like our article about email autoresponders.
Mistake #4: Inconsistency
You can't expect a recipient to remember your brand if you get in touch with them once every three months. Chances are they will unsubscribe from your list as soon as they receive your next email.
On the other end of the spectrum is the mistake of sending emails too frequently.
Don't be afraid to ask your subscribers how often they would like to hear from you.
Mistake #5: Not re-engage an inactive group of subscribers
It's easier to engage current subscribers than trying to win the new ones. So, try to re-engage inactive subscribers by conducting polls and surveys. Also, you can give free gifts and perks in advance for activity (surveys, important events, etc.)
Mistake #6: Not using a professional email signature
A well-designed email signature can make your emails more relevant and useful to subscribers. Not only it creates more trust because it features your photo and contact details, but it also helps you promote products, services, events, offers, etc. in the banner section.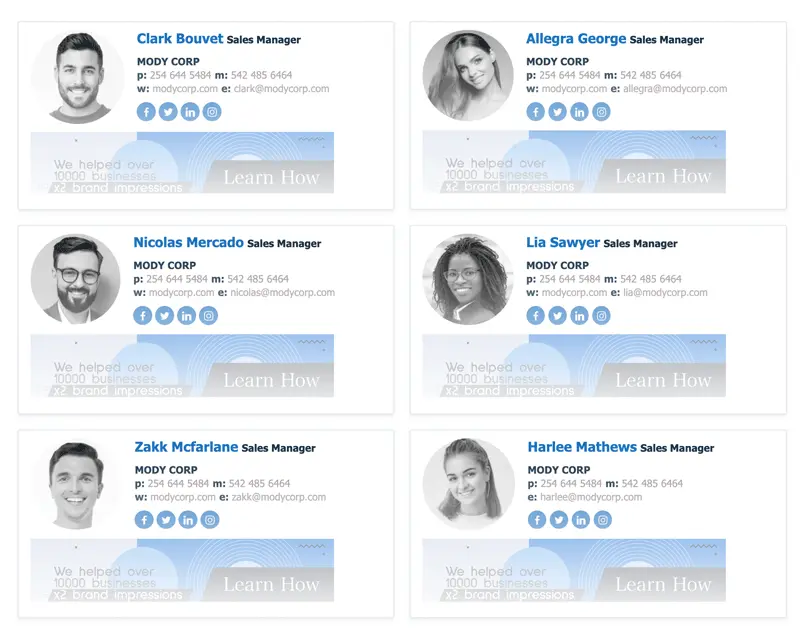 Mistake #7: Making all emails too sales-oriented
Rather than focusing on your product/service, talk about your recipients. If you are selling a product, don't go on listing all the cool features it has to offer. Instead, explain how the product will benefit its new owner.
Also, keep in mind that you don't have to sell in each email. Sometimes, you can just educate and entertain. If you are focused only on what your customers can do for you, instead of providing value, people will become disinterested and might even mark your emails as spam. And if your emails keep ending up in the spam folder, it will hurt your deliverability. That isn't the end of the world, but improving your deliverability can postpone your growth for a while.
Mistake #8: Not using your email campaign statistics
The analytics exist for a reason. If you use statistics properly, you can easily make your next campaign a success. For example, the analytics can provide you with information such as the recipients who opened your email but didn't place an order. This means that they were interested, but for some reason, they didn't pull the trigger. If you have such data, you can group all these people in a separate segment and then send them another email to offer some additional info about the product or provide them a discount.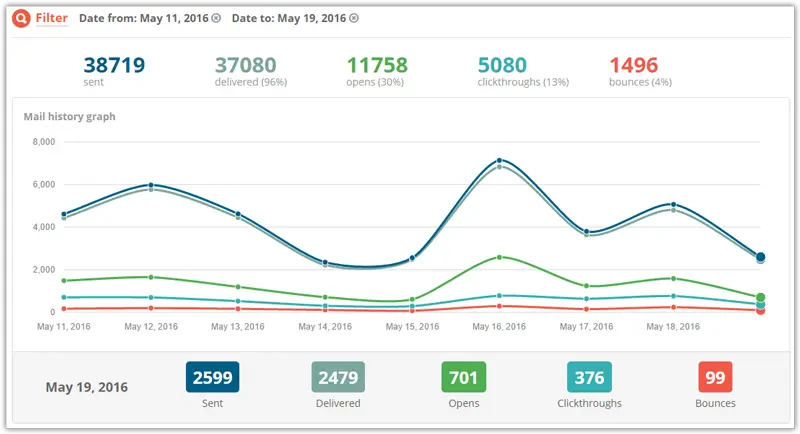 source: Sendpulse
Conclusion
Not having a well-thought-out email marketing strategy is one of the biggest mistakes you can make in business. If you send emails blindly, you are risking to get many unsubscribers (due to irrelevant and untimely content), decreased email open rate & response, inability to analyze your audience, and low sales.
But when you start to invest your time and effort in creating a good email marketing strategy, you can quickly find the right way to communicate with your audience and get results.