5 Ways Your Marketing Team Can Use Email Signatures to Drive Conversion

As a startup or small business, you probably have a logo and brand elements in place. To increase your credibility, you probably use them for different circumstances: t-shirts, a new website or business cards. However, as technology progresses, we're constantly learning new ways to be more efficient. We realize that our branding, content and generallymarketing strategy may need a revamp. Quite a lot of small business entrepreneurs come across this dilemma, so today we decided to share a few tips on how to use a simple marketing tool in order to promote your product and drive conversion on a budget.
Managing Signatures to Make Your Startup Go Viral
The product does not need to be outstanding or remarkable in a particular field in order to go viral and attract potential leads. Simple team productivity tools can help to appeal more customers and enhance the focus on the best brand awareness. And an email signature is probably one of the effective tools in simple marketing. Thankfully, the web experts transformed normal emails into lead-converting machines, and here's where professional signatures are going to come into good use. Being one of the valuable, yet undiscovered, marketing tools, an email signature needs to go after the highest branding player.
The signature helps professionals and marketing team in a company to draw attention to the company and standard messages. This is an amazing approach that helps to advertise and spread information about your business, earn virality without a significant press or ad budget. Moreover, the signature may include engaging and coherent content that is integrated into marketing and sales processes.

Email Marketing
Whether you want to connect with your customers, keep your followers engaged or provide quality content, email is a great solution. Email marketing is still used and still performs as strongly as it did before. The right marketing team for startup knows how email is helping the business – you'll feel better about the effort and cost you put into it if you pay attention to this detail. Basically, the email is a database of own professional life - it helps to connect with clients, users, vendors, co-workers or employees.
Email plays a huge part as it is a great way to increase customer retention and involve an audience to cooperate with the brand. Normally, each email has a signature area – a place where you can add a graphical block with clickable links and call-to-action. These add-ons help digital marketing team to promote what's most essential and what's top of mind for the company.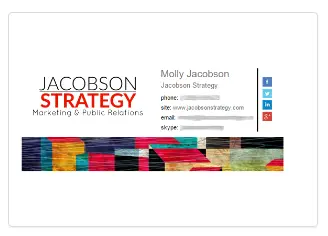 Best practice dictates that your marketing team for business should create a signature that includes a marketing-related content. By using them your company can:
1. Promote sources or deals including materials such as:
Reports, e-book, blogs, posts, articles

Newsletters or sign-up call-to-actions

Social network account links

Case studies, videos and images

Events, tradeshows or webinars

News, press releases and office stories
2. Engage customers and convert prospects:
By capitalizing on this opportunity, your company has the power to maintain personal one-to-one email communications and help users to stay up-to-date with the information included into the signature.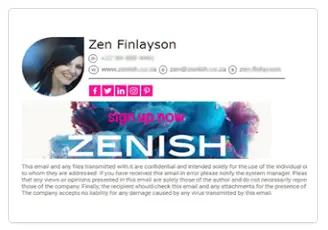 3. Provide additional information and features as:
Demo requests, calendars and schedules

Support phone numbers and contact data

Product release notes and community links

Overview of the services and product

Landing page link suggesting referrals
4. Centrally manage all company signatures:
Your company can manage a sig in an adept manner and update campaigns for all employees in real time in just a few seconds
5. Maintain brand consistency and display professionalism:
If users don't recognize the email senders or content, they delete them. Employee email signatures are a perfect place to provide logo and other brand elements, so your audience can easily point your brand out.

Final Thoughts
Nowadays, marketing teams can have multiple strategies to choose from. On top of that, companies can pick the traditional marketing tools that are still in use across business niches. The options are endless. However, email signatures work as an effective channel for simple marketing and every type of business.
Every email that includes an optimized signature is a marketing opportunity. In addition, the signature can also include important details about the organization and links to special promotional events that you want to outline. That's why the NEWOLDSTAMP service makes it possible for your startup to manage all the above aspects, without having to disturb your hard-working employees.
Be the first to comment and share "5 Ways Your Marketing Team Can Use Email Signatures to Drive Conversion"!