How to Create Realtor Email Signature That Sells
1. Hey, Web Presence! Great to Connect With You
2. Email Signature as the Main Tool in Email Communications
3. Best Practices for Real Estate Email Signature Design
4. Adding Portfolio with Properties into Your Email Signature
5. Tools to Create Email Signatures
Web presence is essential for any business in 2023. So, a successful real estate agent should pay attention to every aspect of their personal brand online.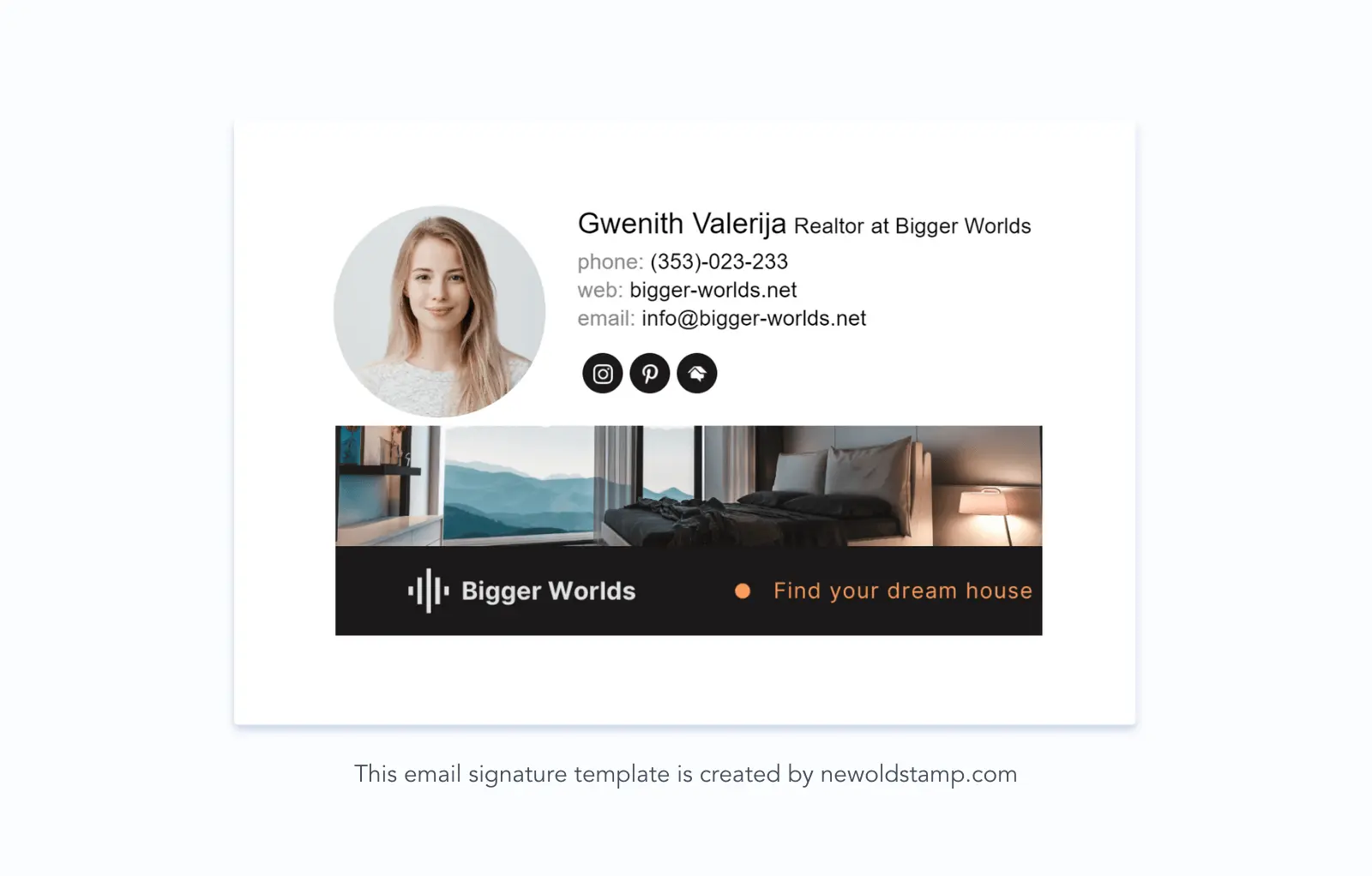 Making a professional realtor email signature can help get your business in front of more prospective clients. Your customers will be able to easily view who you are and what your service is. The process of creating a signature can be done in easy steps.
Hey, web presence! Great to connect with you
Emails appear to be more personal and authentic than any other marketing efforts you take. So, if you're just starting out or setting the stage for open communication, you should be paying more attention to direct email marketing in order to find new customers.
Finding new customers (aka generating leads) can also be done by using:
Social media accounts

Website and blogs

Ads and promotions
The creative commercial with dynamic content that promotes the latest houses and homes available for sale in the local area can be posted on your Instagram or used in the banners and landing page of your website.
And an email signature block is a perfect place to include all of the above options. In most cases, clickable social media icons, banners, weblinks, personal info, and portfolio, including logos and images, can be inserted into the email signature.
The real estate listings, links to video tours, and open house announcements in your email signature will bring in clients that may be looking to buy their next home.
To create rich text HTML signatures for email clients like Outlook, Gmail, Yahoo, and Apple Mail, you can just use a convenient editor tool and generate your custom real estate agent email signature. It can be a great real estate campaign if you use it wisely and maximize its impact.
So, if your web presence is spread across Instagram, Twitter, Facebook, LinkedIn, Pinterest, you can put links to all the social accounts, including your banner and a link to your website as in the sample below: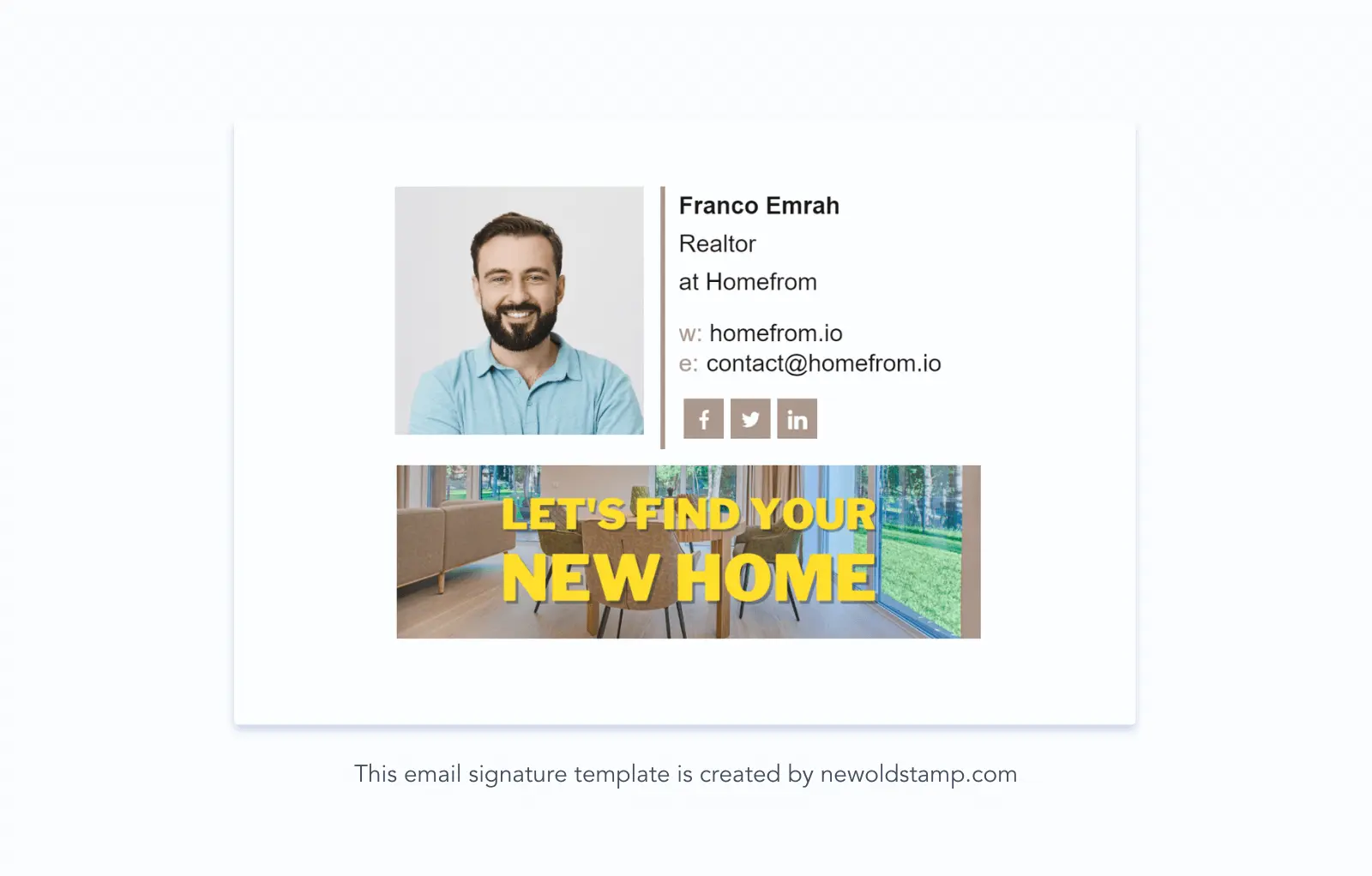 Email signature as the main tool in email communications
Every day one to one communications with the clients and partners build trust. The hundred of emails forwarded to your customers and coworkers can bring incredible opportunities. Whether that's a case of sales communications, open house offers, or product advertisement, an email message is a great space for marketing your business online. And with a business email signature that is also a primary form of communication, you don't need to complete your info every time and send the same details.
Another good point, the email signature encompasses a logo, fonts, color palette, banners and eventually it includes visual elements that communicate a startup or company's vision. It is defined by how your target audience and potential leads perceive your business. That is why it is significant to portray it correctly to your clients.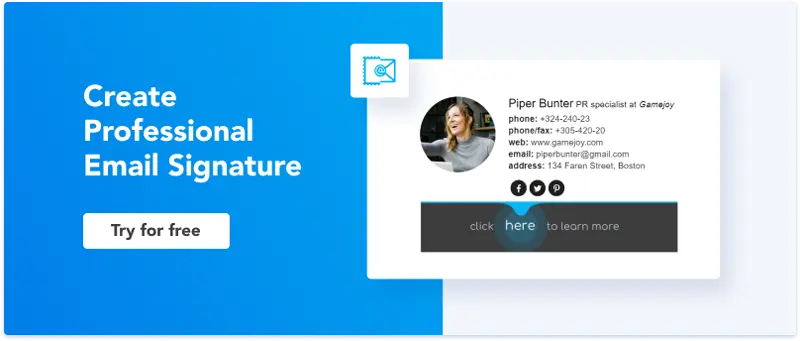 To share data and for a real estate team collaboration, you can apply different tools to connect or promote offers even more effectively. Your team might include links to such tools like Google drive and calendar that are great for highlighting upcoming events, meetings, and open house offers. You can add links to portfolios and announcements, avoiding distracting or needless conversation.
You can attach an email signature banner, maximizing leads and digitizing the processes so that every message will be on-brand and relevant. By using the YouTube or Vimeo links, you can show videos of the properties you are selling. Such a method will allow your potential leads to have a better look at the properties and to connect emotionally with you.
Best practices for real estate email signature design
Here are some tips and tricks to help you make an email signature for Outlook, Gmail, Apple Mail, and other clients with the right design.
You need to make a simple design that fits your brand. When choosing an email signature template or making your own block, from a readability standpoint, keep in mind that the pure design is far superior to style. If there is too much going on, the recipient can get turned off. A great graphic design is a design without needless excessive elements.
Additionally, it's vital to make a design that fits your brand. It has to fit colors, fonts, logo, layout, or business card. Some agencies can also have particular brand guidelines.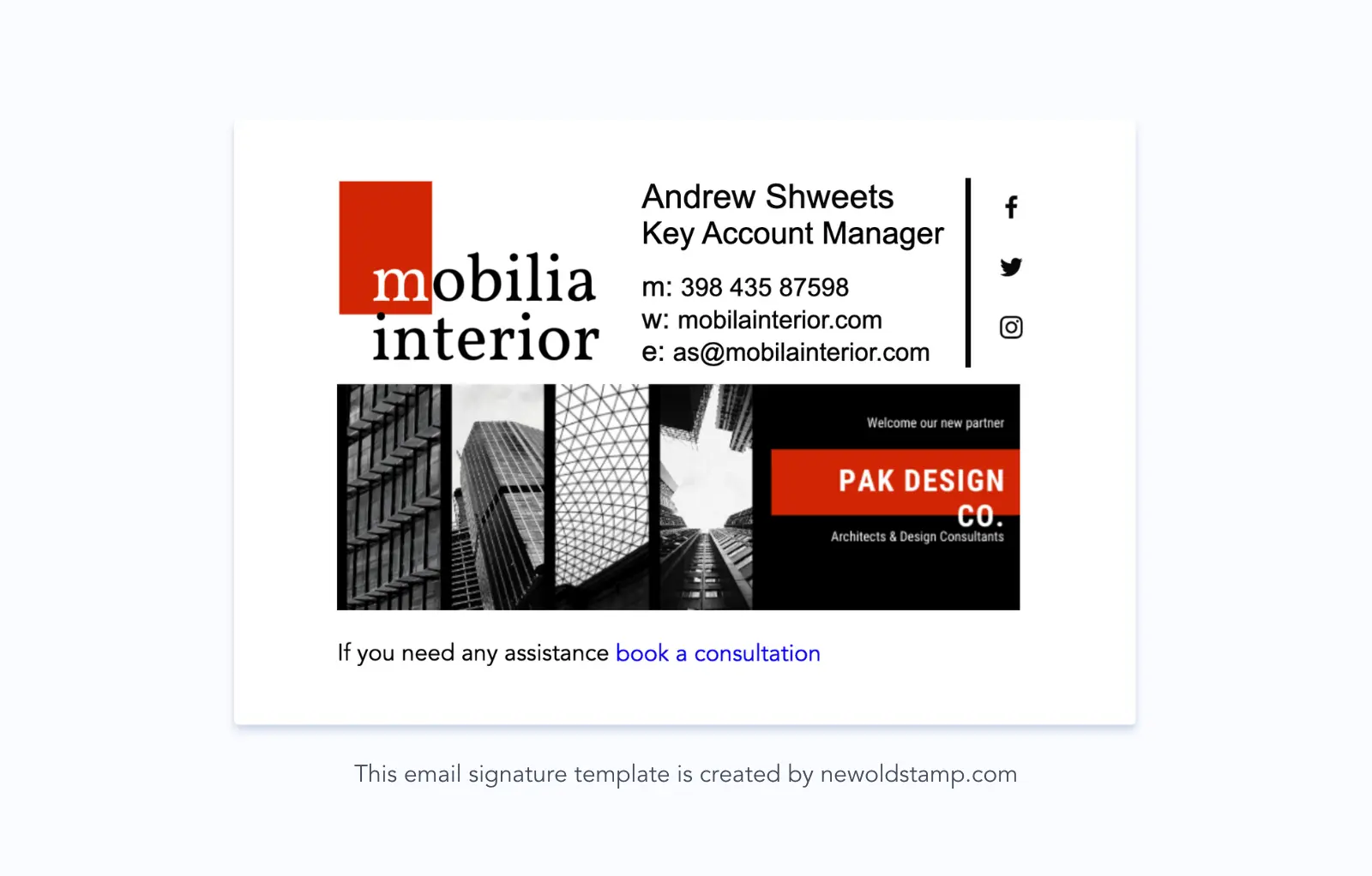 Your brand and marketing goals have to help you narrow the choices. You should choose a signature template that includes the right blend of creativity and professionalism. You can pick a corporate style that will fit a simple branded business.
If you decide to make a rainbow signature, take into consideration that it is a great idea for creative startups.
Finally, designing for mobile will help to build a highly engaged signature. Colors that aren't your brand and formatting that doesn't work for all devices are the details that you need to avoid in order to build a good signature.
Adding Portfolio with Properties into Your Email Signature
Today anyone can introduce their properties by using different methods and channels. For example, among the updates released by Instagram, you can search Stories through hashtags and locations.
The Stories feature allows showing live videos or capturing photos similarly to Snapchat. This can help to make a properties-sharing and engagement spot to grow view counts and leads. You can add the Instagram account icon to your signature and successfully market yourself and your business with a wide list of properties.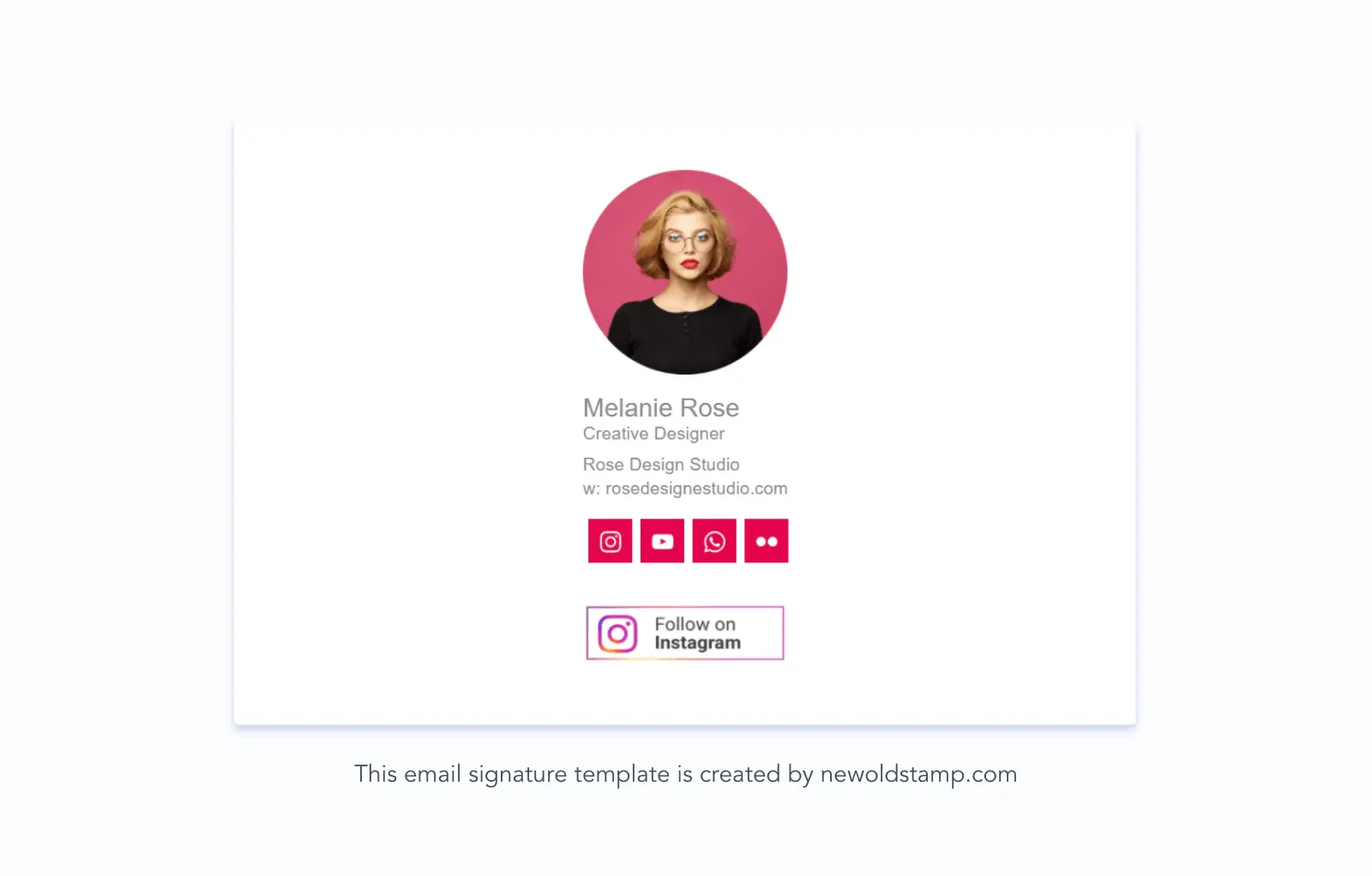 To look professional and show credibility, you can also add a promotional banner to your realtor email signature. Including a banner ad and making a real estate business card design with a house silhouette can easily promote and highlight the properties in the local area. Plus, you can link your banner ad to specific sales and promote it via all your team email sigs.
The email signature itself can speak a thousand words if it's done correctly. Add everything that you think is necessary, but it must be mindful not to overwhelm your customers. To get you a competitive advantage, you can use graphics and images with links to the real estate properties or to your portfolios. This way an email signature will create a better experience for house buyers and investors.
Tools to Create Email Signatures
There are many approaches typically related and applied when making an email signature for realtors. You can create your sig by using Microsoft Word and then copy content from there. It can be made in Photoshop, and then attached as an image with no clickable links:
Designed by Mia.Designs: freepick
You can try to create your signature directly in your email clients or from scratch using HTML coding: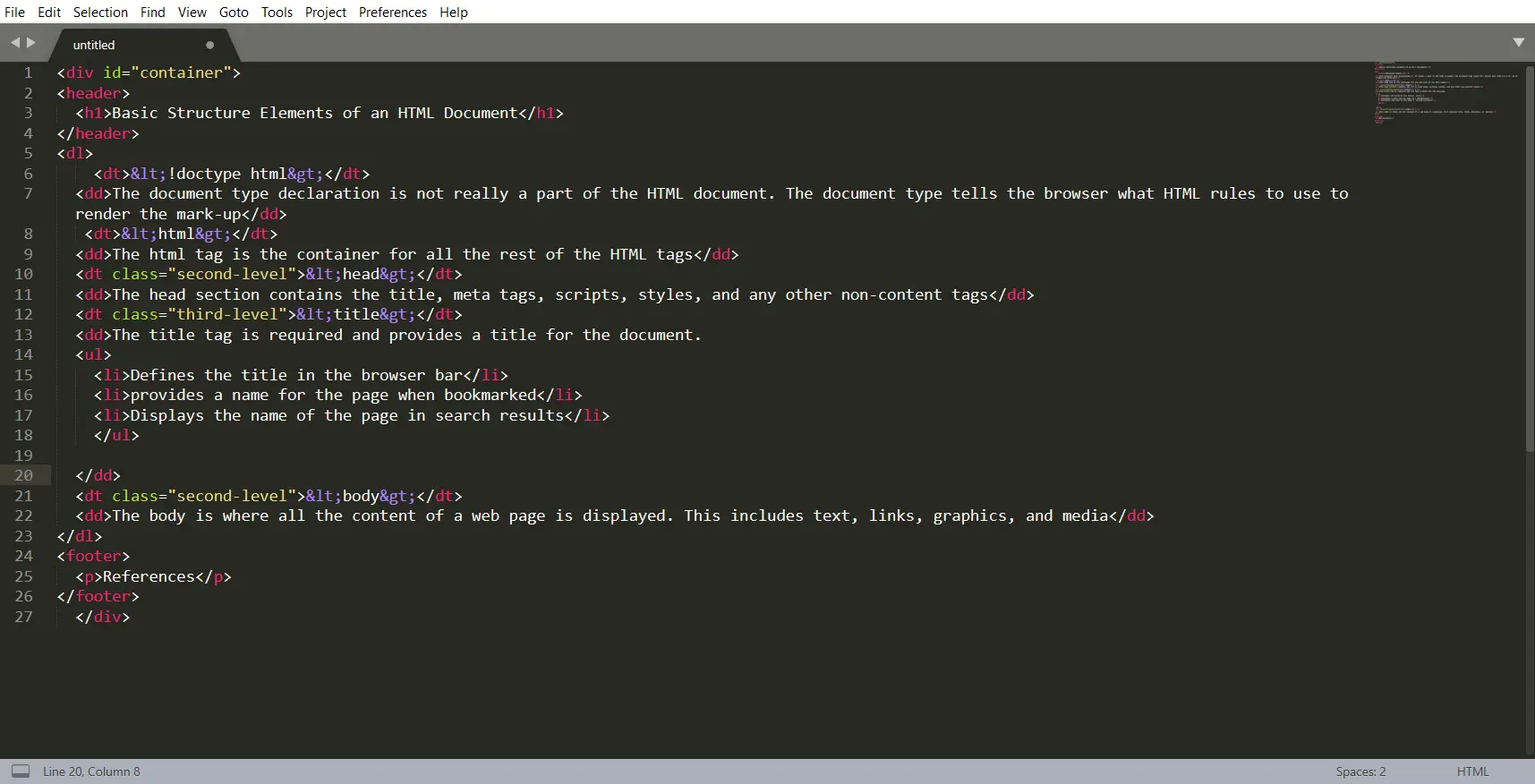 And finally, you can create your perfect real estate email signature with an email signature generator!
With the Newoldstamp email signature editor tool, you can create the best email signatures to succeed in a real estate business. No Photoshop and HTML coding skills are required to work with this signature builder. And you will make your signature in just a couple of minutes: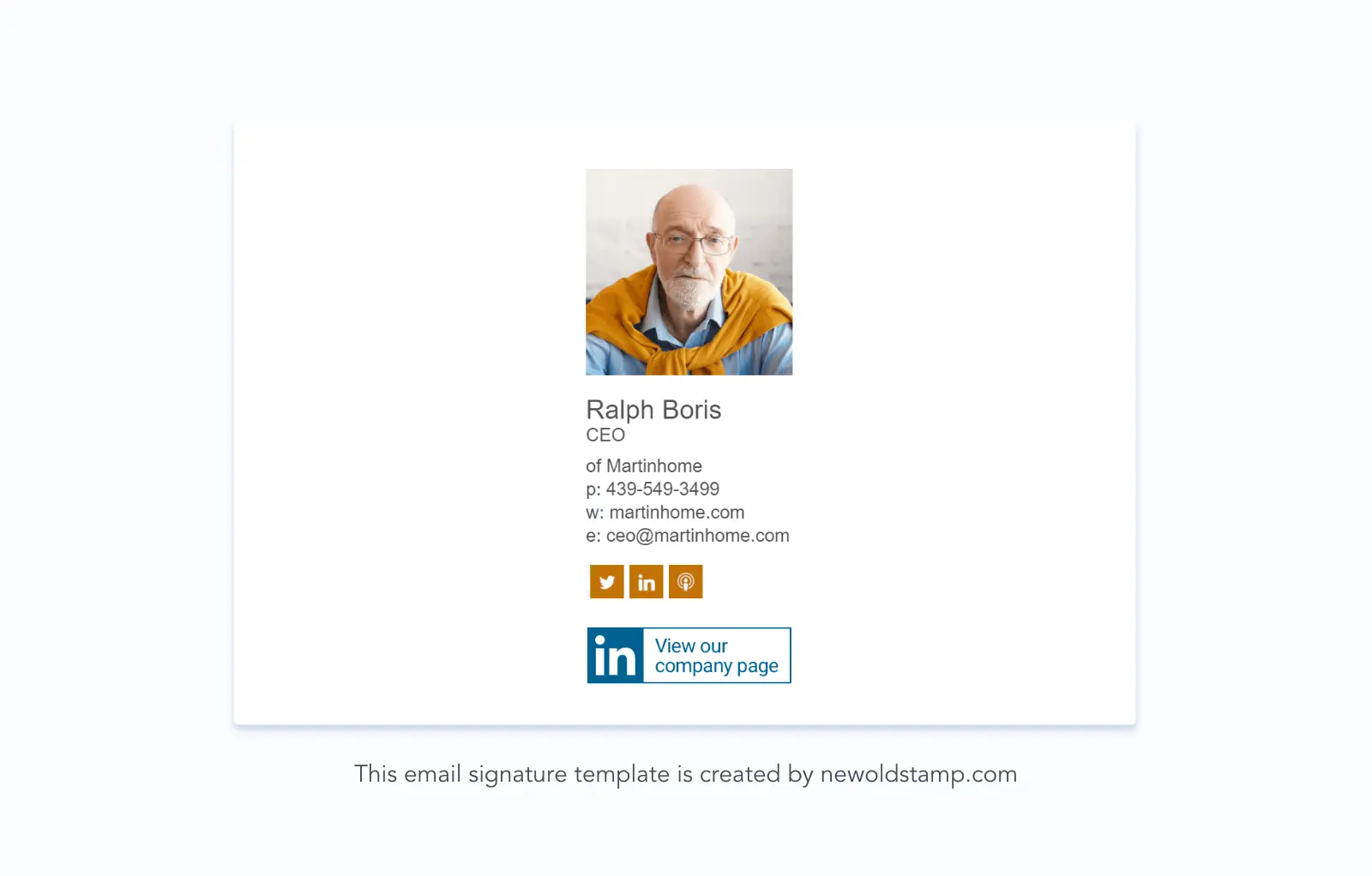 Having a professional signature in place proves quality. A well-thought-out and well-designed realtor email signature sends the message that matters to your business. Now you can use the included templates, add your content and clickable images, put in social accounts and logo fast.
Conclusion
Every email that you send is a branding opportunity that can market your listings. If you are in need of a brand identity, then a professional signature for the real estate business can be an ideal choice for you. An email signature is a great tool; you just need to make it correctly to use its full capability:
When adding your title and contact details, do not forget to include a logo

– an important part of branding is your business logo. By displaying your real estate agency logo you show how proud you are by being a part of a company.

Include your company colors

– the bigger business, the harder it can be to incorporate branding. Simply, present a united front to anyone who connects with you.

Link to your most significant listings

–

you can get more eyes on your property listings, if you add links to a portfolio, social accounts, etc.

You may also consider including buttons to video channels where your clients can find the newest properties and sold listings.

Adding licenses and communities you participate in

– what you include is totally up to you; however, we recommend adding licenses, badges, and links to communities and real estate industries with the latest news.
Sure thing, someone may be thinking, "Come on guys! I've made a real estate website to showcase the latest projects. I'm maintaining major social accounts. I have to make an email signature, too?"
It can sound like extra activities, but the benefits of making the email signature far outweigh the time and effort that go into it.
To find inspiration for your realtor email signature, you can check these professionally crafted examples that have been made using the Newoldstamp email signature templates.