Best Online Marketing Strategies That Work in 2023
1. What is online marketing?
2. Top 5 online marketing strategies
In 2021, many businesses moved their products and services online. People started working remotely.
Now, because of the pandemic, companies invest more resources in marketing strategies to leverage the shifting business environment.
Since everything moved online, businesses need to engage and retain their current customers and generate more online traffic to grow sales and revenue.
And, as we can see, online marketing continues to change. New trends come and evolve all the time.
If you want to be familiar with the key online marketing trends in 2023, keep reading.
What is online marketing?
It is the practice of utilizing web-based channels to spread a message about a company's products or services to its potential clients.
Online marketing comes in many ways and forms, and for someone who is not a specialist in this field, it might be quite a challenge to find the most effective ways to promote their business online. Surely, the choice of tools depends on your business, its size, target audience, and other factors. But trust us when we say that some strategies won't fail to represent your brand online in the most efficient way.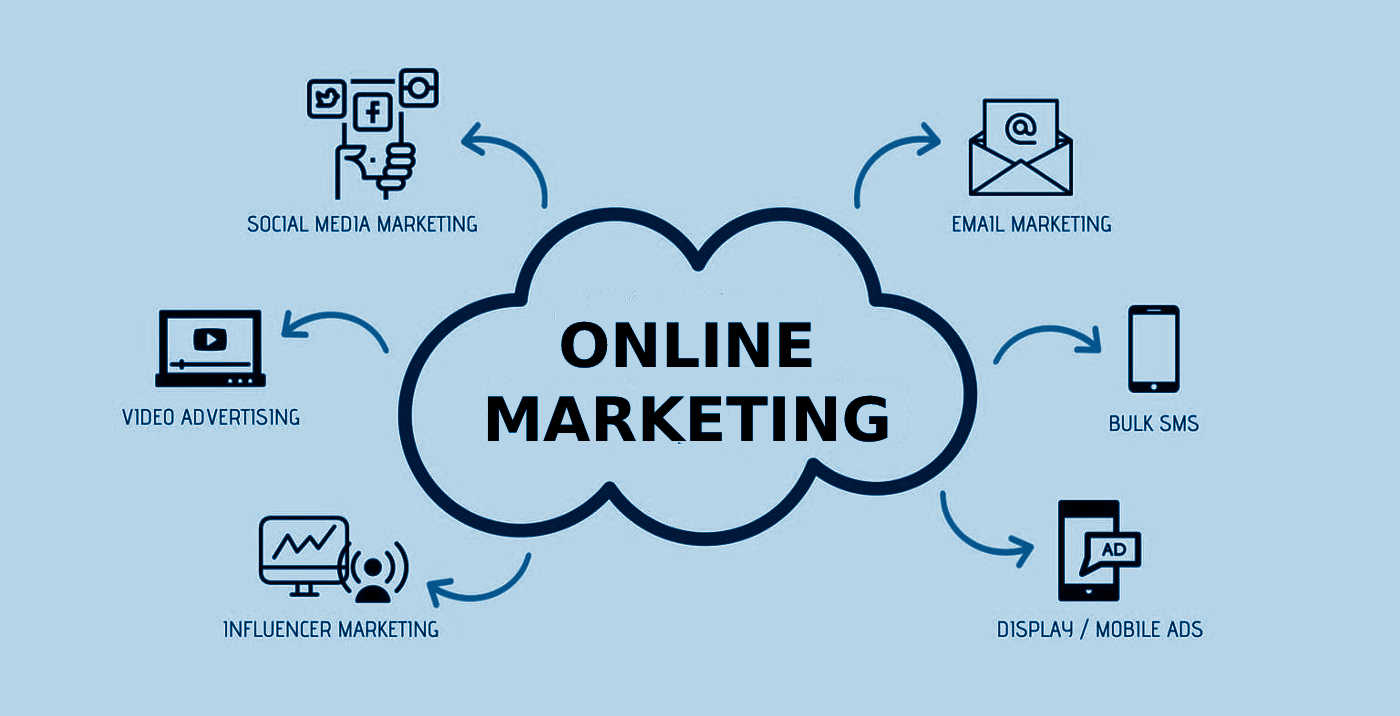 source: Medium
Let's review five of the best online marketing strategies to help you scale up!
Top 5 online marketing strategies
1. Email marketing
The first strategy on our list is email marketing. The name is pretty self-explanatory: it is a marketing technique that is all about reaching out to your current and potential customers through electronic letters. Email marketing includes such activities as creating regular newsletters, welcome emails, as well as lead nurturing and dedicated materials. Let's define and review each one.
Newsletters are among the most widely used email marketing strategies. Basically, you update your customers on anything that is happening in your company and, more importantly, what matters to them: new products, discounts, publications, upcoming events, and so on. It is a great way to keep your audience engaged and regularly remind them about your brand.
Next on, welcome emails. This letter type helps you introduce a product or service and potentially build long-lasting relationships with your customers. A welcome email is a chance to create a positive first impression and demonstrate that each new customer matters to you. Don't forget to add a pinch of personalization and warmth to your welcome email: your new clients will definitely appreciate this effort.
What about lead nurturing emails? It is a tactic of turning your leads into customers. How do you do that? First of all, it is paramount to understand the needs and pains of your new subscribers. What holds them back from making a purchase? What would encourage them to buy your product? Maybe they need more information or a discount? Your lead nurturing emails should address any questions your leads might potentially have and offer something they won't refuse, such as a gift or a nice discount.
Finally, dedicated emails are always focused on specific news or offers. You might send a letter to inform them about your new product, share some important updates, or invite readers to your event.
Dedicated email is a perfect opportunity for calls to action as they usually discuss one topic only: if it is a new product, list its perks and encourage readers to buy it; if it is an event announcement, don't forget to share a link to it.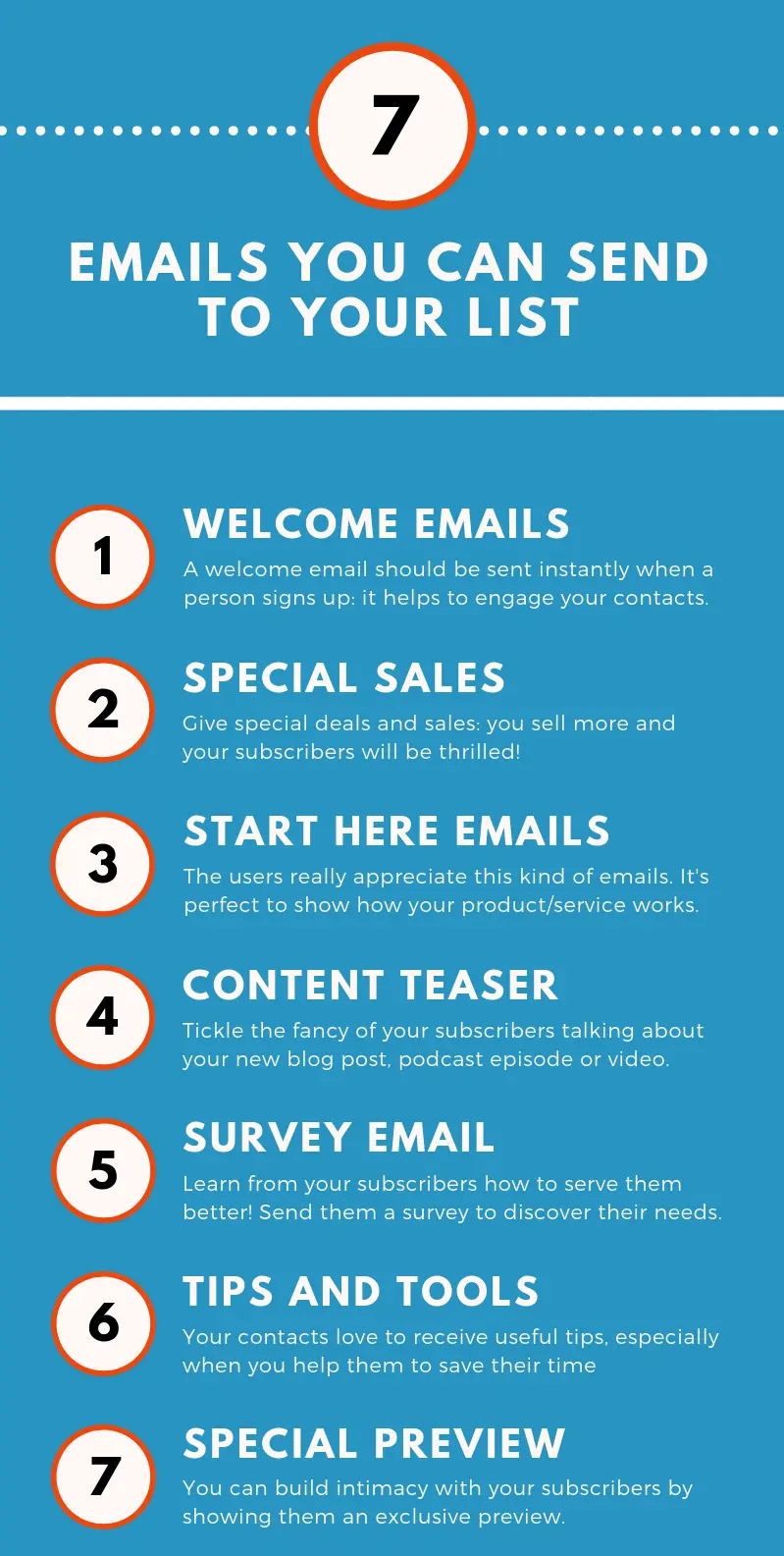 source: Sendbluster
One more aspect to take care of is an employee email and an email signature. Employees send dozens of emails each day. It's a great way to improve the positive visibility of a brand.
One of the nicest techniques to do email marketing – do it with a NEWOLDSTAMP email signature tool. We provide simple control over your company's signatures. Come and see what we're all about with our FREE & PREMIUM subscriptions.
2. SEO
SEO is the process of getting your site organically ranked number one on internet search engines. SEO is not the main power behind effective online marketing. However, it continues to play a very significant role as it can feature heavily in branding optimization.
Let's talk about two types of search engine optimization: on-page SEO and off-page SEO. On-page search engine optimization is all about your website and its content. To have a better ranking on Google, you should check on your website's speed, make sure that all the links work properly, and take good care of keywords. The last task is especially important as keywords are the main way to let your target audience find your business. Such services as Google Ads or Ahrefs will help you get started.
As for off-page SEO, it is focused on creating backlinks and making your website more reliable in the eyes of Google (and users, of course). How does it work? If there are links leading to your website from other sources, it means that people trust you and share the information from your website. Because of this, Google will rank your website higher, and as a result, more people can discover it.
Of course, off-page SEO is not limited to getting backlinks only. Receiving more recognition as an expert in the industry is important too. Guest posting on well-known and reliable resources is the simplest way to do this. Backlinking also includes participating in various industry forums, becoming a guest on podcasts or video blogs, hosting events, being a speaker at conferences, and other activities.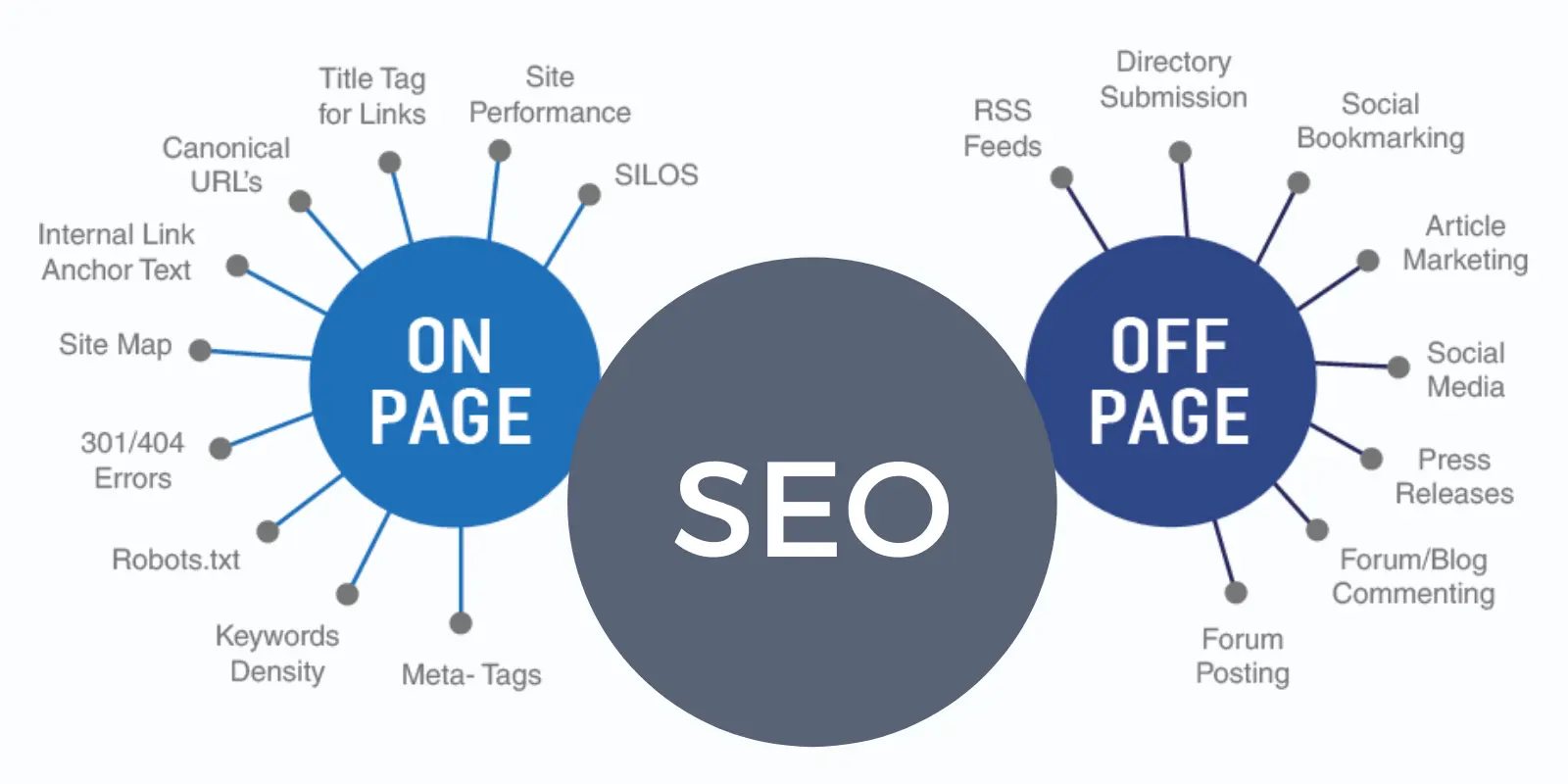 source: NJ Local
Such an approach will definitely attract the public's attention to your brand: the organizations you collaborate with will post about your input, the media will cover the event, and, as a result, your target audience will find out more about the company.
3. Social media platforms
Utilizing social media networks is something you obviously have to provide. Social platforms are booming quickly, and that gives your business a competitive edge. Social users all across the world mostly hang out on Instagram, Facebook, Twitter, and YouTube. And social media presence and active accounts on the above services will help promote the brand and increase visibility.
There should be no hesitation on whether to be present on social media as a brand. These days, it is simply a must. Having an Instagram or Facebook account that is regularly updated creates a feeling of trustworthiness as well as makes you more familiar and easily recognizable.
What to share on your social media profile? Some good ideas can be to show your team members or employees, tell your personal success story, demonstrate how your inside processes work, answer some common questions, and, of course, share customer feedback.
Your social media presence is not all about active posting (which still should be done). One more crucial task is to listen to your audience. Nowadays, there are even dedicated "social media listening" teams.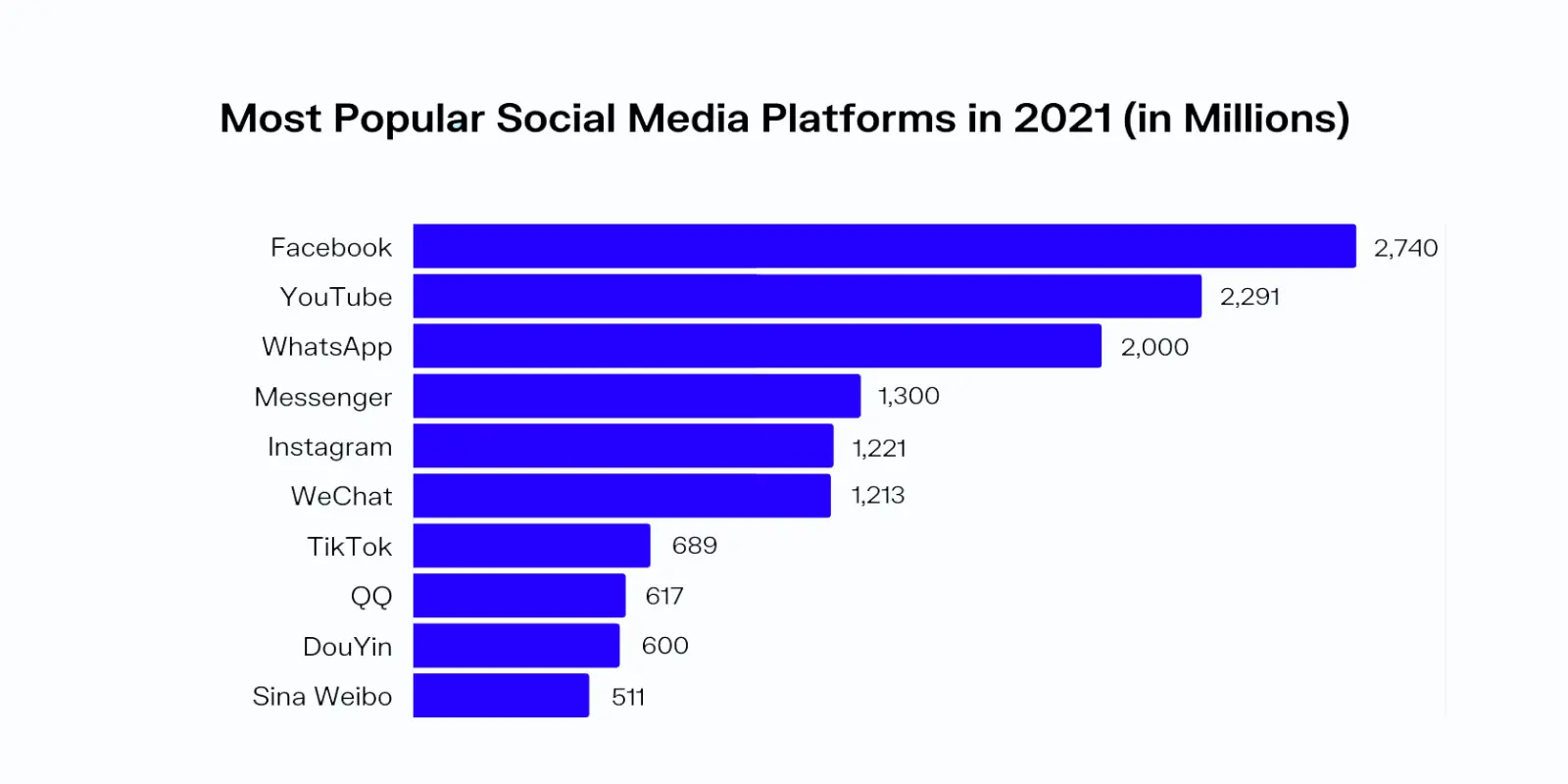 source: Oberlo
Such specialists analyze and address the feedback the company is receiving on social media. Needless to say that social media listening is one of the major reputation management tools today.
The right choice of social media platform is the first step towards an effective marketing strategy. It doesn't make too much sense to run a TikTok account if your target audience is millennials, right? The people you are trying to reach just won't see your content. If you market a product to business owners, LinkedIn is a way to go, TikTok works best for younger people, and Instagram, as well as Facebook, are universal channels.
4. Content marketing
Content is and always will be a king. It is an extremely helpful tool for driving traffic to your web, landing and social pages. Once you develop and promote engaging and useful content using the crucial keywords, you will see how it adds true value for reaching a target audience.
Many entrepreneurs might underestimate the power of content marketing: it takes so much effort to create some good content while you can't always see the direct results right away. But let's remember that content is basically what the whole Internet is made of: articles, videos, webinars, podcasts; everything we consume online is some kind of content.
The main advantage of content marketing is the fact that it is indirect: you are not selling anything but just helping your audience find the answers or learn something useful. By creating blog posts, ebooks, videos, and other content, you showcase your knowledge and signal that you are an expert in the field.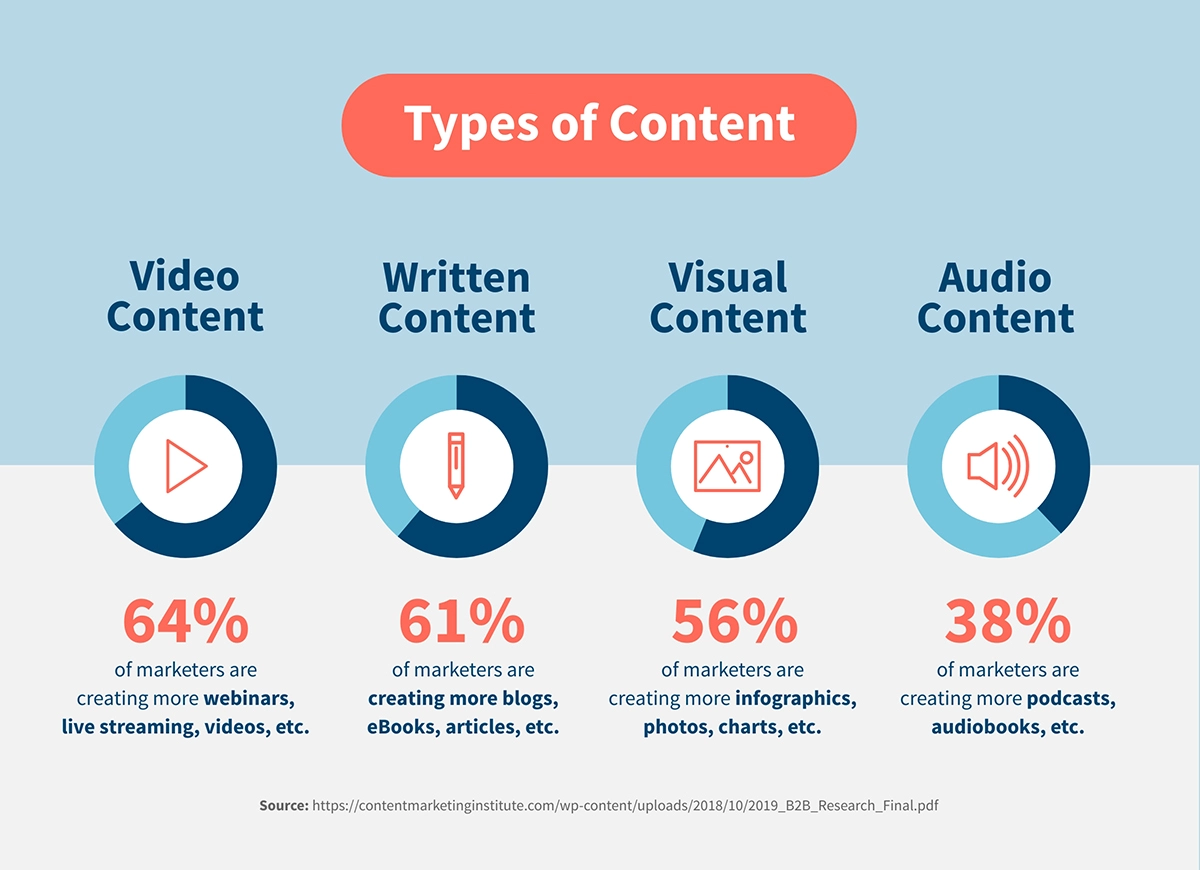 source: Visme
When the right time comes, your company will be first on the list for making a purchase or getting service because a person already sees you as a trustworthy and experienced provider.
One of the most popular (and probably the easiest) ways to engage in content marketing is running a blog. By regularly posting articles on current topics, you will be able to attract a wider audience to your website and encourage them to explore your product.
Imagine yourself as an Internet user looking up some information. You stumble across a useful article. Remember, for this to happen, your company also has to work on its SEO strategy. So, after seeing an article that answers your question in detail, you will likely look through other materials related to the topic and maybe even explore the company itself. And that's just how it works: you make good content and let your potential customers discover it.
5. Analytics
When enhancing an online presence, you need to record the progress. Statistic reports will:
Show your incoming traffic and record unique users, social followers;

Count how

many

people find your site through other resources;

Record how many users access your website.
Promotion of your website and services by using digital marketing is not something you can neglect if you want to grow your company into a success.
Why do you need to track your marketing analytics? Isn't it enough just to do something? Unfortunately no. Without analyzing your success, you will be simply moving in the dark and making guesses. Basing all your efforts on a blind assumption can result in time and money wasted.
What is the best way to track your progress? Luckily, there are many online tools available, and you don't have to keep numerous Google Sheets and analyze each parameter by yourself. Some of the most popular tools are Google Analytics, SEMrush, and HubSpot Marketing Hub.
Using such tools allows you to see how many people visit your website, how much time they spend reading your materials, how it influences your sales, and other parameters.
It is also good to remember about proper A/B testing. It is not necessarily a part of analytics, but nevertheless, it is a way to ensure that everything you post works well. A/B testing is most often used in messaging, such as email marketing, push notifications, and others. Before sending an email to your customers, it is crucial to check how it looks when someone receives it and whether all the information is displayed correctly.
Summing up: creating an effective digital marketing strategy
That's it. These are the five most effective Internet marketing strategies for 2023. It doesn't mean that you have to start working on all of them at once: you might start with the one that seems the most appropriate and easy to implement for you at the moment or try only several of those.
In any case, remember that online presence is a necessity for any business today, be it a local clothing brand or a consulting service. If your business is not online, the chances are it doesn't exist for most of your potential customers, so be sure that they can find you on the Internet. Remember to regularly update your social media and website so that the visitors won't get an impression that you are not operating anymore. What is more, with a well-thought-out online marketing strategy people will not only easily find your company but also get interested in the brand and become its advocate.