Best Free Email Signature Generators of 2023
1. Best Free Email Signature Generators
2. What is an Email Signature?
3. Why Do You Need an Email Signature?
4. What to Include in an Email Signature?
92% of adults use email, with more than 60% using it every day. It remains not just an incredibly convenient communication method but also a vital business tool that can help make more sales, acquire new customers, and develop new relationships that can help facilitate growth.
However, to make the most of what email has to offer, it's important to utilize every part of the message to convey the most important information. And that's why email designing a compelling email signature should be a top priority for business professionals.
But what is an email signature in today's business communication? Why does it matter? And how to create an effective email signature using a free email signature generator?
In this guide, we'll go through everything you need to know to make the most of what email signatures have to offer.
Best Free Email Signature Generators
Today, there are many free email signature generator solutions that you can choose from. But the question remains - what is the best free email signature generator in your situation?
Below, you'll find an extensive list of options.
MySignature is a robust signature maker that provides users with a long list of powerful free features that could rival many paid tools on the market today. The intuitive editor allows you to preview the information you input, ensuring you are happy with the way it looks.
The free version also comes with various customization options, such as text or handwritten sign-offs, various add-ons such as social or even video conferencing, ability to modify fonts and colors, over 140 social icons, and even the ability to import your data from Facebook or LinkedIn.
When you opt for the paid plan, you get pro-level templates, more advanced customization features, promo banners, no branding from MySignature, as well as the ability to manage all your signatures from the dashboard.
📌 Key Features

Chrome Extension

Intuitive editor

Add logo or banner

✅ Pros

❌ Cons

Affordable

Nice-looking templates

Quick to use

Limited, although still solid template customization options in the free version

💲 Pricing

Has a free version with limited functionality, paid version is $4 per signature per month if paid annually.

🛠️ Tool Level

⚙️ Usability
💡 Helpful Tip

To get started, register for a free account and create a free signature using the Signature Generator. Then, simply input your information into the fields and use the Preview feature to make sure your signature looks like you want it to.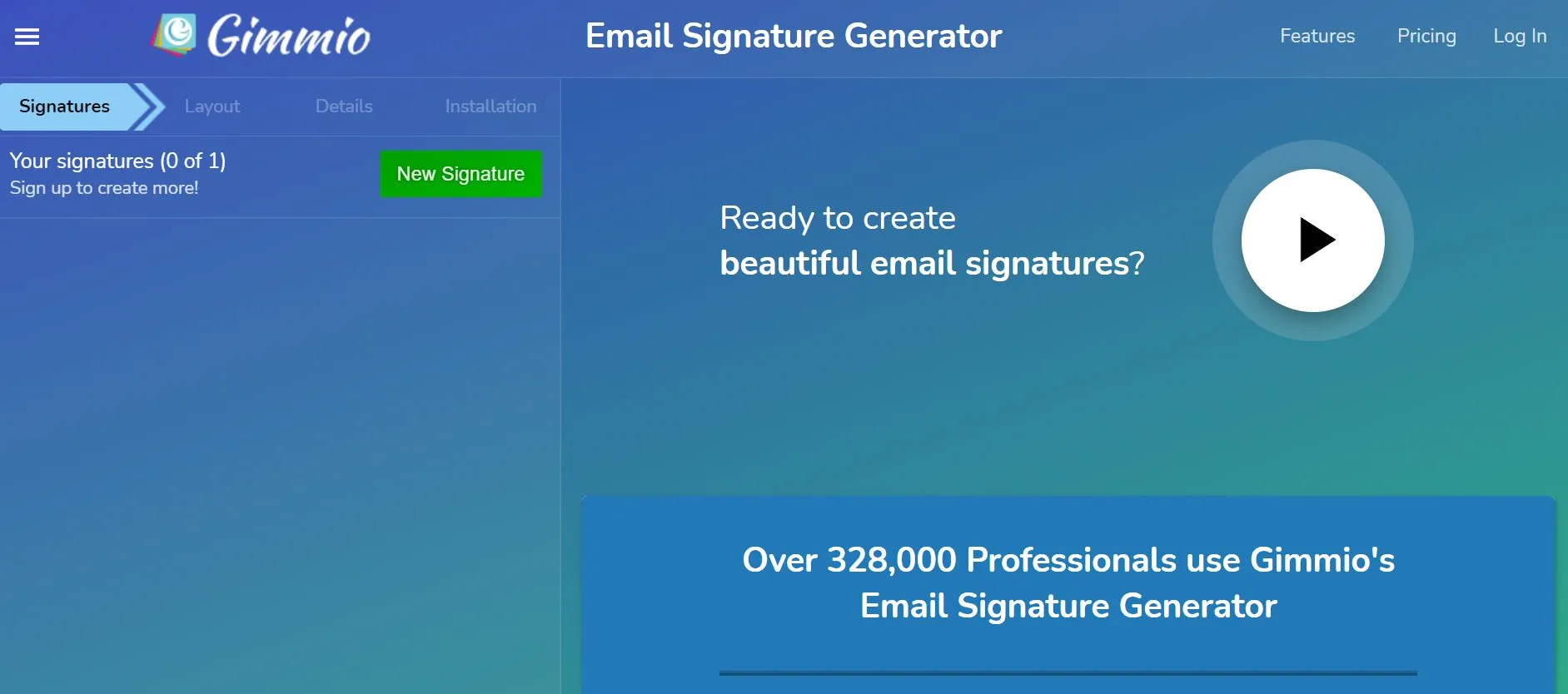 Gimmio is a solid tool for email signatures if you're looking for more advanced customization options. Using Gimmio's selection of templates, you have countless choices for design, fonts, icons, and fields, providing you with a lot of flexibility in terms of how your signatures look. But unfortunately, most of the best features are reserved for paying users.
Meanwhile, the free version leaves a lot to be desired, as most of the features the tool has are locked until you decide to pay. Still, you get a selection of templates and some customization options even if you use the free version.
You can use the available professional templates and customize them according to your preferences, allowing you to maintain a logical structure of your information. Another neat feature of using Gimmio is being able to add custom banners, which act as an eye-catching invitation to check out your best offers or services.
📌 Key Features

Dozens of templates

Custom banners

Can also make business cards

✅ Pros

❌ Cons

Great customization options in paid plan

Has ready-made templates you can use immediately

Convenient layout

Need to pay to access more advanced features

Some users report fonts not displaying correctly

💲 Pricing

Limited free functionality, paid plans start at $28/year for a single signature.

🛠️ Tool Level

⚙️ Usability

Advanced customization but still relatively simple to use.
💡 Helpful Tip

Make sure to figure out whether the templates look consistent across different clients. For instance, in Gmail, you are limited to 10,000 characters in your email signatures but some of Gimmio's pre-made templates exceed this number by default. And that can cause significant issues.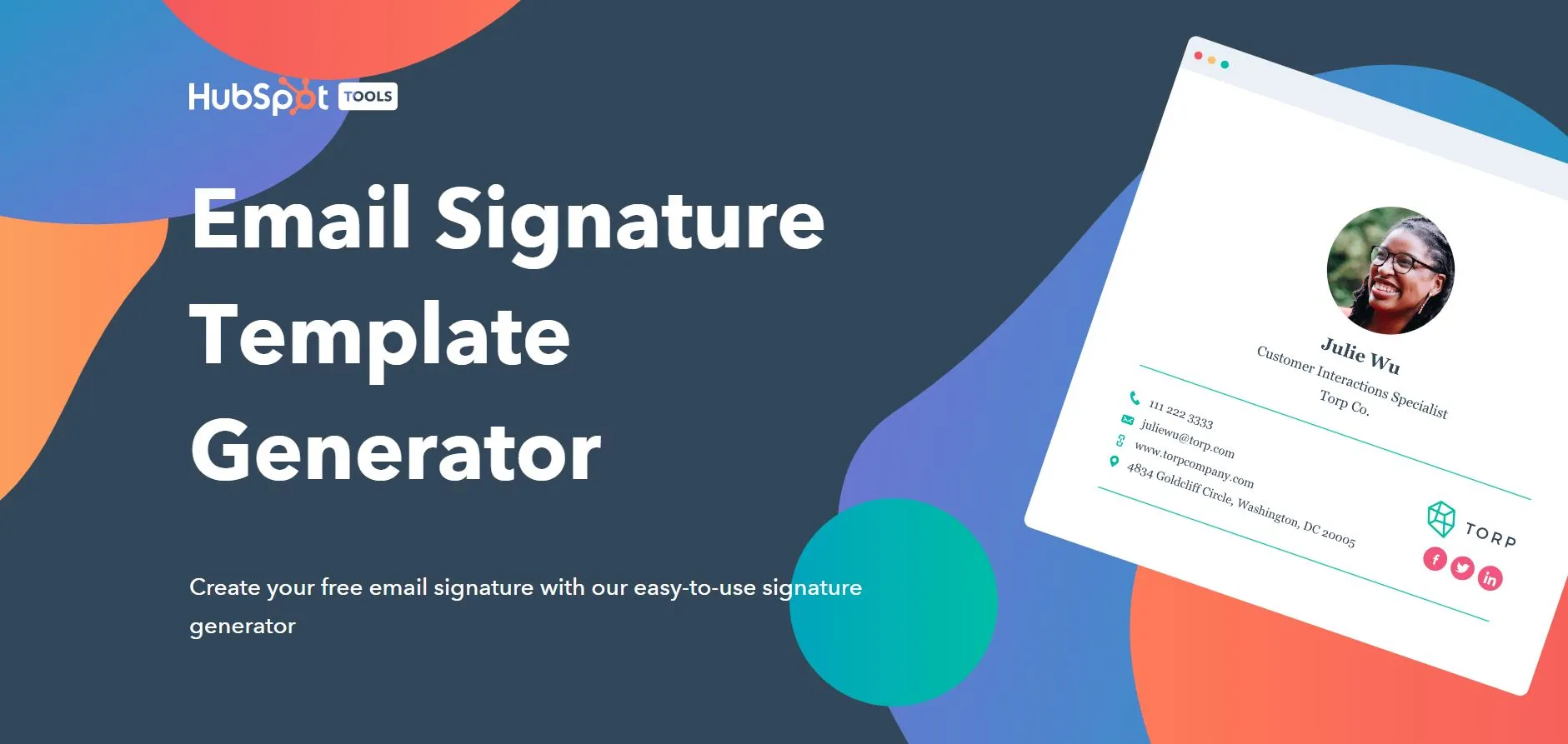 HubSpot is one of the most comprehensive marketing solutions available today, so it's not surprising that it offers an email signature maker solution as well. It allows you to customize various aspects of the template including the fonts, themes, colors, and more, using a handful of templates.
If you have HubSpot Academy certifications, you can showcase them as part of your signature to add more credibility to your brand or services. Alternatively, you can add a CTA using an image or text to entice readers to check out your offers or book a meeting.
📌 Key Features

Part of a comprehensive all-in-one marketing solution

Font and link colors

Customizable images

✅ Pros

❌ Cons

Simple to use

Allows you to customize the colors and fonts

Free

Limited number of templates

Not very scalable

💲 Pricing

🛠️ Tool Level

⚙️ Usability

Convenient for small teams or one-person businesses
💡 Helpful Tip

If you're already using HubSpot and want an integrated signature option for yourself, this could be an easy solution for quickly creating a workable email signature. For teams, it might not be the best option.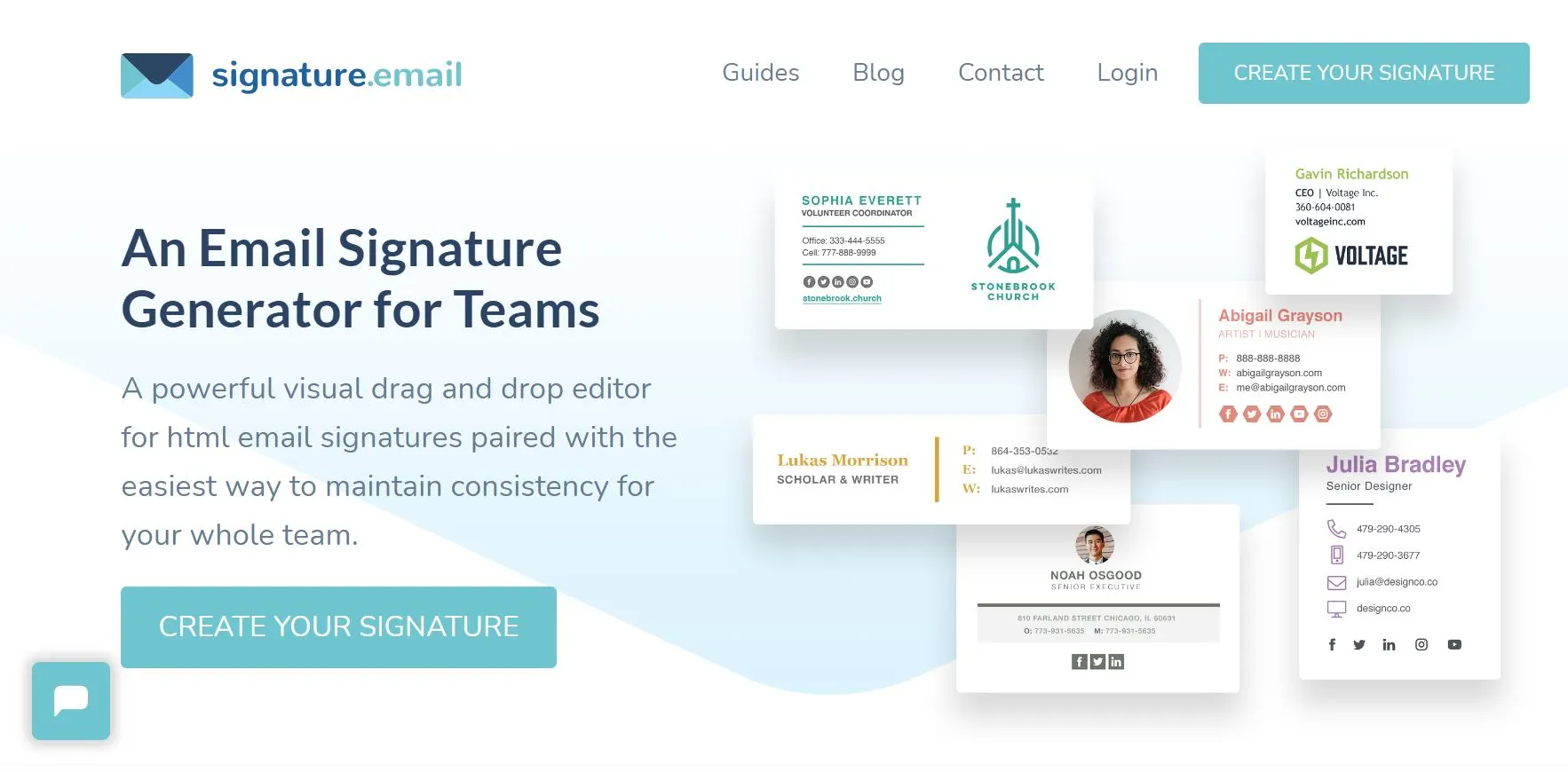 If you want an intuitive and simple-to-use free email signature generator, Signature.email is a good option to consider. It has a great drag & drop editor that will make it easy to realize your vision and build on the basic templates to create a unique signature that matches your brand.
When creating signatures for teams, using Signature.email will ensure that all of your team members use a consistent signature design. Instead of having to copy and paste each signature to your employees, you can share a single link, which will maintain consistency no matter how many people use it. However, keep in mind that in order to access this feature, you'll need to opt for the paid plan.
📌 Key Features

Compatible with main email clients

Drag & drop builder

Flexible plans

✅ Pros

❌ Cons

Quick process

Consistent branding for all team members

Looks good on all devices

Some features are harder to figure out on your own

Signature expires on the website in 30 days, at which point you can no longer edit it and have to start from scratch if you want to make changes

💲 Pricing

Some free features with limited functionality - paid plans starting at $19 for a lifetime for solopreneurs and $199/year for businesses

🛠️ Tool Level

⚙️ Usability

Drag & drop is convenient but the advanced features might require support assistance
💡 Helpful Tip

Make sure to keep in touch with support to get the most of the templates and their customization options.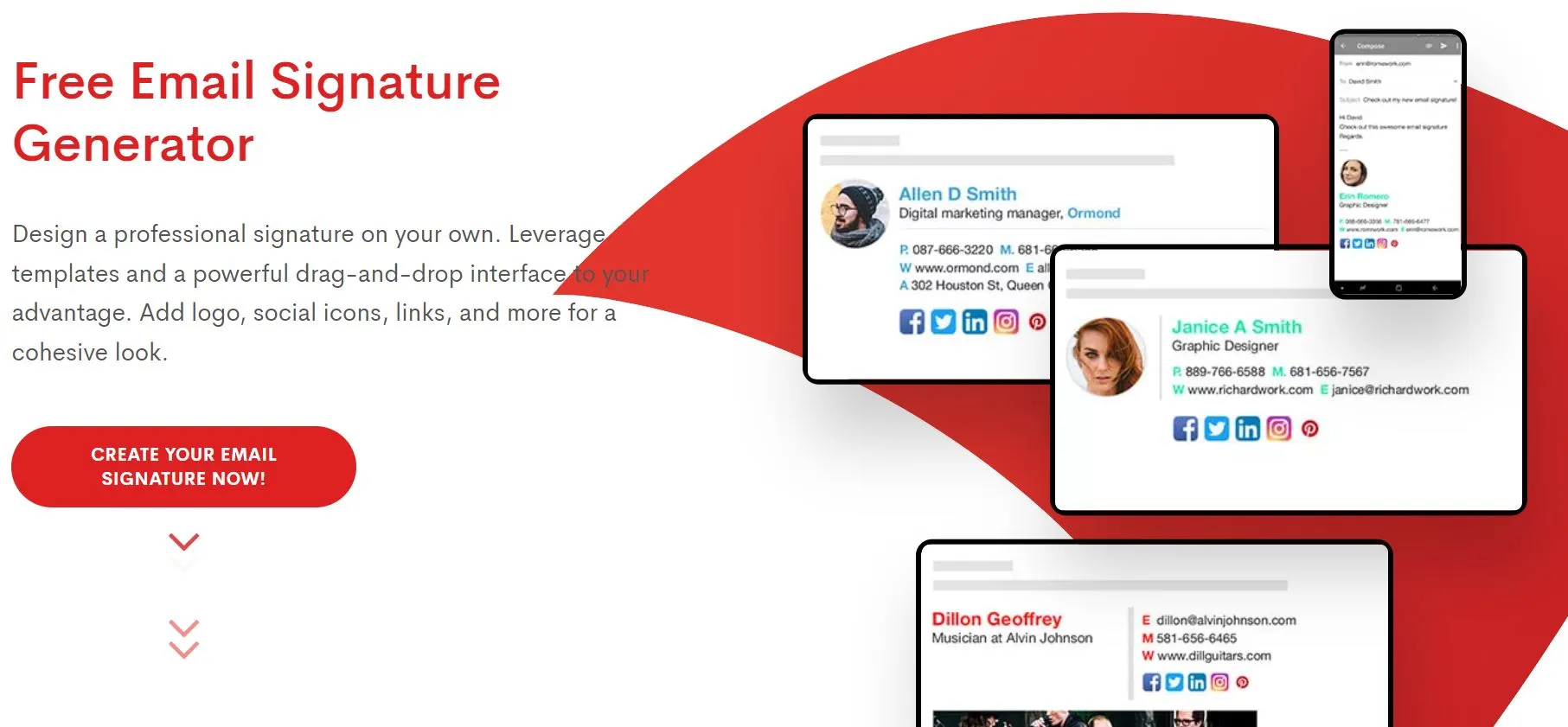 If you're looking for the fastest way to create an email signature, you can't go wrong with DesignHill. It has simple but good-looking templates you can set up quickly and be on your way to improving your email performance.
This tool has become one of the most popular options in the market today by providing convenient and versatile signature design features that can be used by someone without any experience. But since it's such a simple and convenient tool, more advanced users will probably find they can't get everything they want from this signature generator.
📌 Key Features

Customizable templates

Works with main email providers

Other design services

✅ Pros

❌ Cons

Ultra-fast built-in signature design process

Tools for boosting click-throughs

Allows you to add a variety of different types of details

Ease of use also means this tool is more simple, thus not suitable for more advanced purposes

Can only create individual signatures, no ability to group them

💲 Pricing

Can create a simple email signature for free, pro plans start at $8.99 per user

🛠️ Tool Level

⚙️ Usability

Very easy to quickly create a simple signature
💡 Helpful Tip

If you just need to get a clean signature quickly, this might be the fastest option. But it does have many limitations and isn't suitable for larger teams.
Most of the email signature generators on this list have paid options. But the Signature Generator is actually a completely free tool that will allow you to create a simple email signature using a single format.
Even though the Signature Generator is very basic, it does allow you to add the most important information most people could need in their signature. You can add things like your name, job title, contact information, company name, website URL, avatar URL, and social media links. If you need more, this tool probably isn't for you, but the simplicity might be appealing to those who just want to quickly get a signature that does its job.
📌 Key Features

Add essential information

Social media links

Color customization

✅ Pros

❌ Cons

Completely free

Takes minutes to set up

Simply copy it to your email client and you're done

Not suitable for teams

Very basic layout options

Little to no customization

💲 Pricing

🛠️ Tool Level

⚙️ Usability

Simple online signature maker that doesn't even need you to register. Type in your info, copy it, and you're done
💡 Helpful Tip

This tool might be good for those who just want something better than just signing off with a name. But eventually, you should consider more robust options.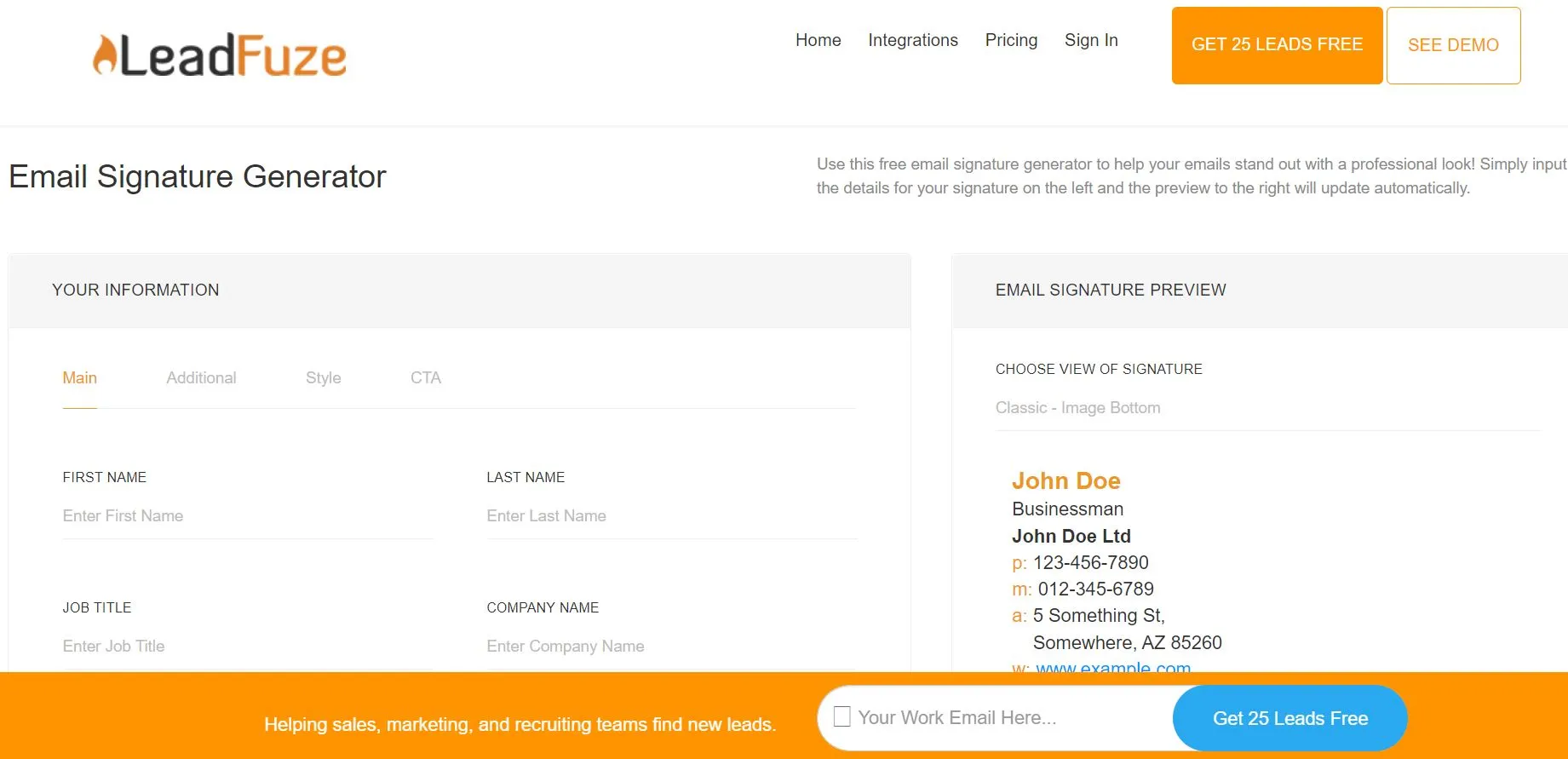 LeadFuze is primarily a search engine for leads, but they also have a simple and convenient email signature generator that you can use completely free. They offer numerous layout options and allow you to insert the most important information about yourself and your business.
Just like the Signature Generator, it allows you to quickly create a signature with details such as your name, company name, contact information, website, address, and social media links. The customization options are minimal, and you don't have the option to create email signatures for teams, which can be quite limiting.
📌 Key Features

Many signature layout options

Social media and website links

Can add a picture or logo

✅ Pros

❌ Cons

Completely free

Anyone can create a signature fast

Not suitable for teams or departments

Minimal customization possibilities

💲 Pricing

🛠️ Tool Level

⚙️ Usability

Type in your information and click "Copy Signature" or "Grab HTML"
💡 Helpful Tip

Make sure you play around with the different layout options to structure the information in a way that makes sense according to what you add to the signature.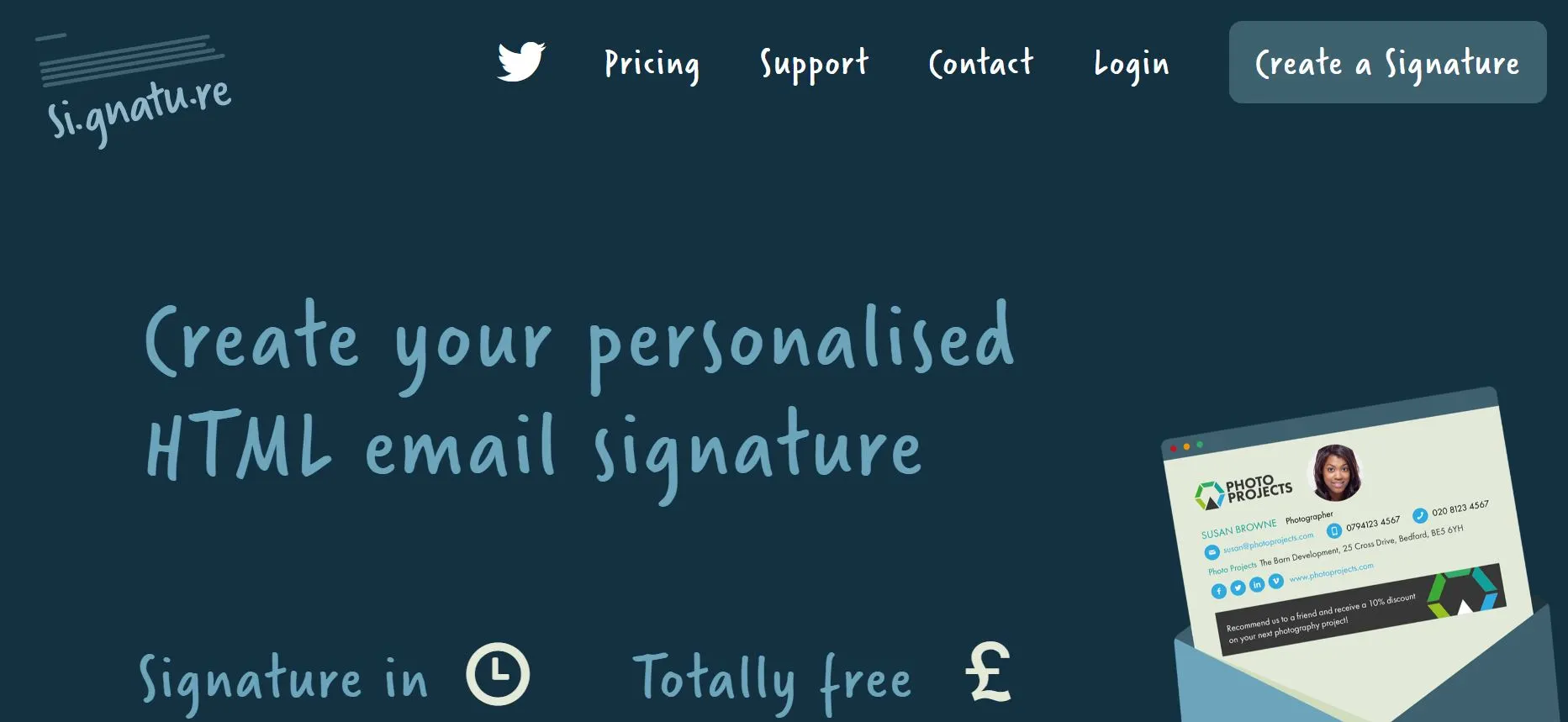 Si.gnatu.re offers a good balance of simplicity and powerful features to be worth considering. You can start for free and then pay a one-off fee for a signature if you want to edit it later.
Even though the website design and layout is a bit unusual, the signature maker is quite intuitive and provides a pretty good range of flexibility for customizing your signature according to your needs, especially for a free tool.
📌 Key Features

Online signature builder

Stylized fonts

Selfie mode

✅ Pros

❌ Cons

Very simple but offers nice design options

Many fonts, text styles, and image options.

Can be used for business

Free only if you download the signature within 30 days

Requires you to paste the signature manually

💲 Pricing

Has a free version, which starts at $5 per signature for paid features

🛠️ Tool Level

⚙️ Usability

Basic, but the paid version can work for businesses as well

Create your signature using the online builder and download or copy HTML
💡 Helpful Tip

Take the time to explore the different options for customization. For example, there are many choices for adding various social media and website icons.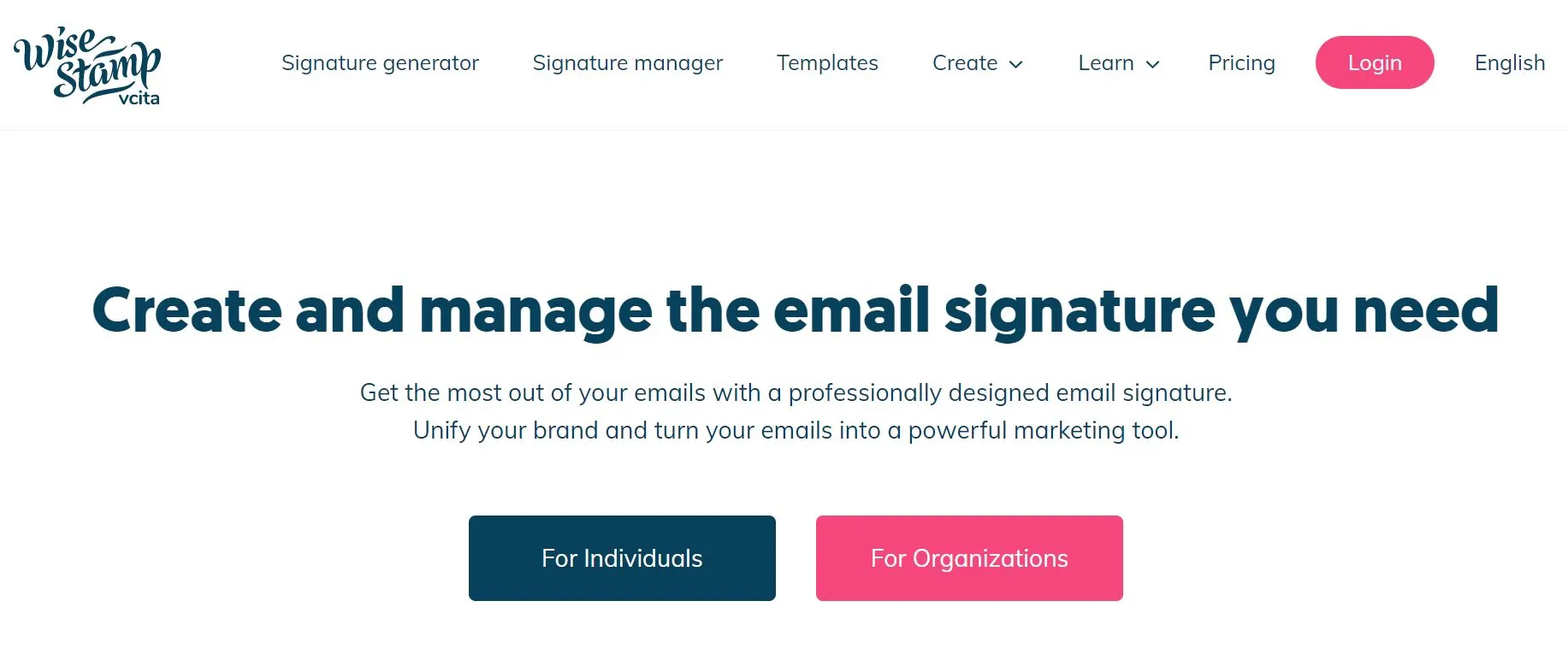 WiseStamp is one of the more advanced tools on this list, providing robust email signature solutions and analytics for individuals and large organizations alike.
This tool can be used by companies of all sizes, but the free version is better suited for individuals who want to create a signature for themselves, even if it may have a steeper learning curve (and a heftier price tag) if you want to access the more advanced features.
📌 Key Features

Various fonts & colors in paid plan

Create your own decorations and spacing

Field customization

✅ Pros

❌ Cons

Can use their extensive collection of templates or design something from scratch

Easily manage and sort many signatures at once

Free signatures have mandatory WiseStamp branding

💲 Pricing

Has a basic plan that has a WiseStamp ad in the signature. Paid plans start at $5.8 per month.

🛠️ Tool Level

⚙️ Usability

Allows creating a signature through their online generator, and can be relatively easy to use even if you don't need the full scope of advanced features
💡 Helpful Tip

You will need to go through the process of registration, so consider if you're okay with having a branded email signature to not waste time.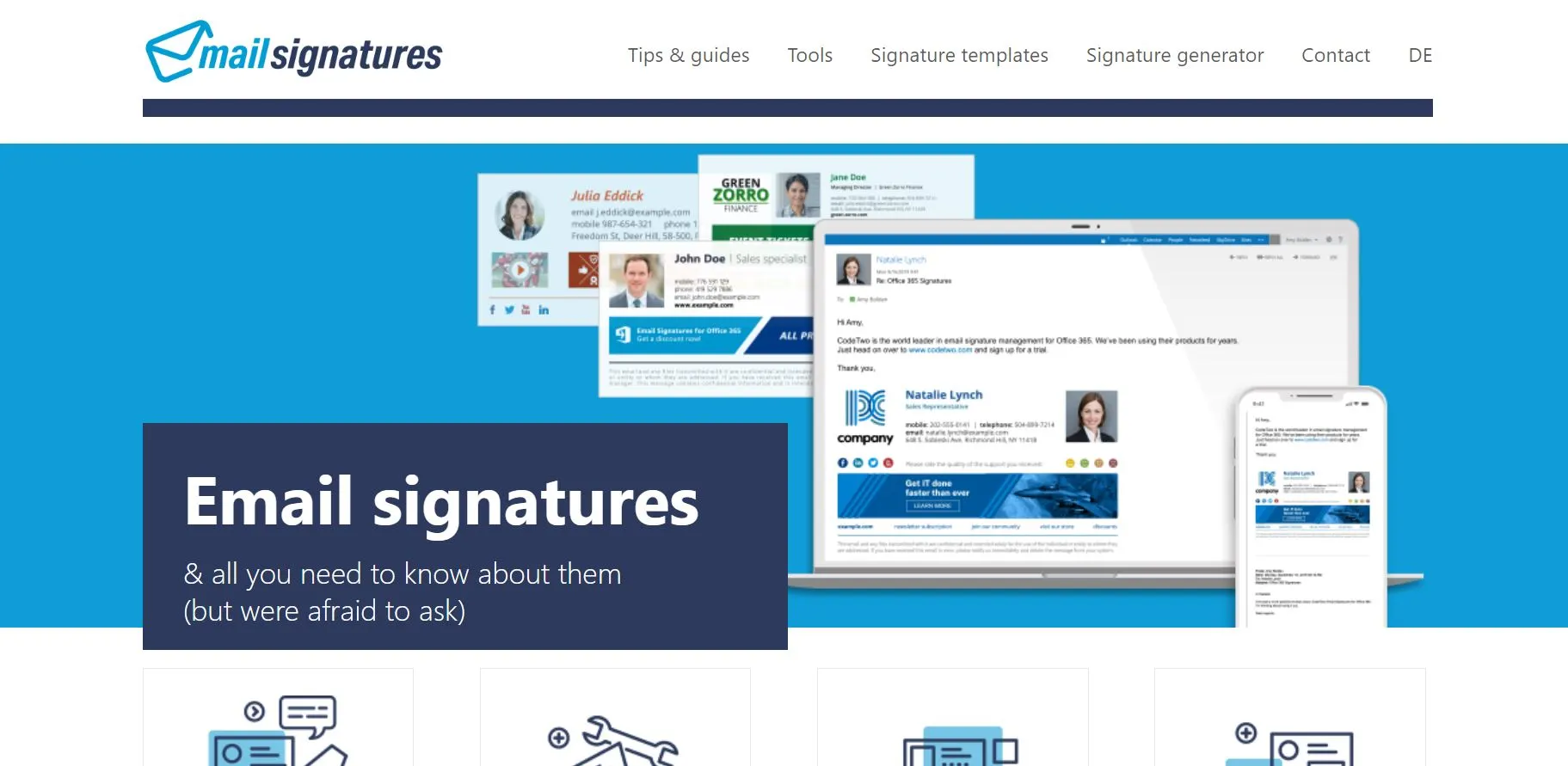 Mail Signatures has been around for a long time and has preceded most of the email signature makers on this list. Yet, it's still perfectly capable of providing you with a clean, functional email signature that you can start using quickly.
But while the signature templates are still usable, there are more timely signature generator options on this list, especially since the Email Signatures tool doesn't even allow to add custom fields, or add banners, which are big drawbacks.
📌 Key Features

Offers support for main email clients

Many templates

Signature management platform

✅ Pros

❌ Cons

Lots of templates for different signature styles

Can learn to use it in minutes

Can choose the email platform you want to use for the best compatibility

Adding custom fields or information is impossible

💲 Pricing

🛠️ Tool Level

⚙️ Usability

Relatively simple to use if you just want a simple email signature
💡 Helpful Tip

If you want more customization options, this might not be the right tool for you; the design process is quite rigid and you can't deviate much from the templates.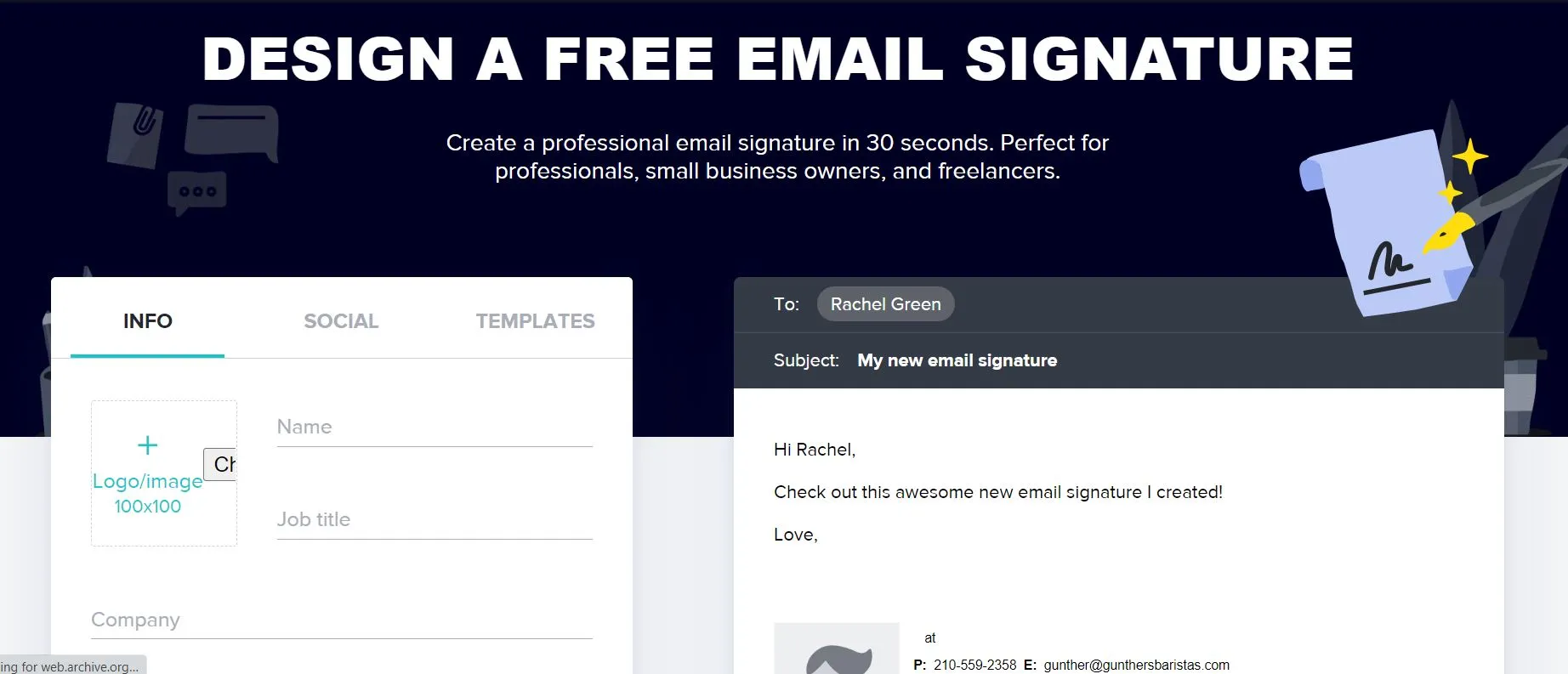 In many ways, HoneyBook is similar to HubSpot, at least as far as generating email signatures. It offers a free tool that can be useful even with limited functionality, but it's an all-in-one marketing platform that uses the tool to generate qualified leads for its premium services.
However, HoneyBook's email signature generator doesn't have that many features, even for a free option. And you also need to download the signature if you want to use it.
Still, for many people this tool can be more than enough when creating a signature that looks good and contains the most important information. You can even choose to create a template from scratch, which can provide you with more flexibility in how the information is presented.
📌 Key Features

Professional templates

Proven company

✅ Pros

❌ Cons

Free

Part of a more comprehensive solution

Relatively basic

Need to download the signature

Geared towards individuals rather than companies

💲 Pricing

🛠️ Tool Level

⚙️ Usability
💡 Helpful Tip

This email signature generator makes more sense if you're already using HoneyBook. Otherwise, other tools might be more worthwhile and give you more flexibility.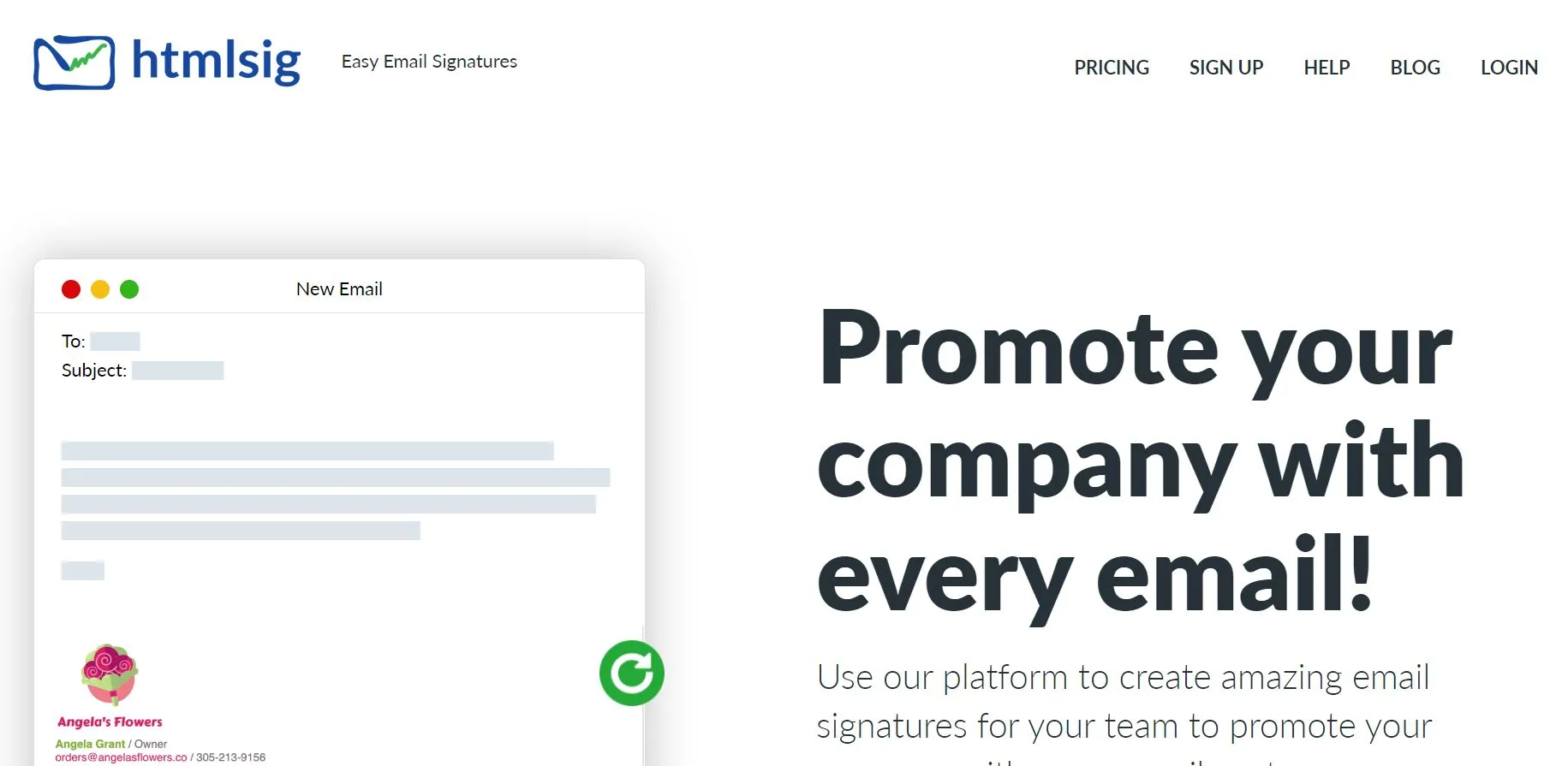 Even though HTML Sig has been around for a while, it remains one of the more popular and innovative solutions on the market, offering both a free version with limited functionality and a more robust premium version aimed at larger teams.
In the premium version, you can take advantage of the signature management dashboard that allows you to keep track of different people's signatures, track performance, and ensure consistent and professional branding across your company.
The basic paid version allows you to create signatures for up to 50 people and is great for smaller teams. Larger organizations can use the Pro plan, which offers unlimited signatures and allows you to quickly duplicate and create signatures for new team members.
Meanwhile, the free version is even more limited, allowing you to create a simple signature on the homepage of HTML Sig, but only allowing it to be edited for 30 days.
📌 Key Features

One free template option

Quick form-based setup

✅ Pros

❌ Cons

Easy to use

Reliable company

Very limited for free users

After 30 days, the signature is no longer editable

💲 Pricing

Bare bones free version, paid plans start at $5.99/month

🛠️ Tool Level

⚙️ Usability

Basic free version, more advanced paid version

Easy to use and convenient dashboard
💡 Helpful Tip

This tool might be worth it if you eventually want to upgrade to a more robust solution. Otherwise, the free version is just not worth it.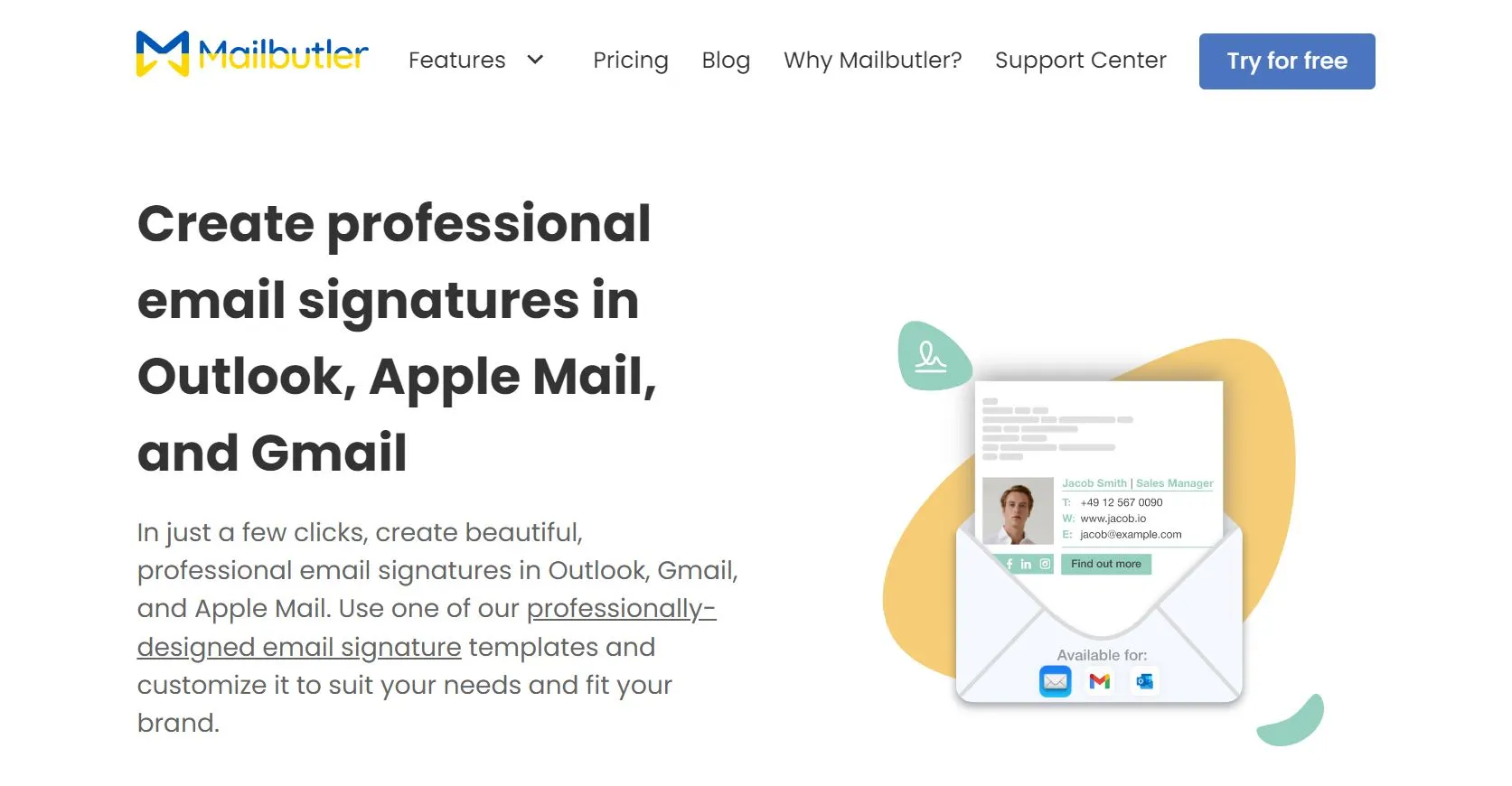 MailButler is a professional-level email signature creator that offers a range of features and instant integration. But it has two big issues - one is that most of the good features are only available to paying users, and the second is that the integration options are limited to accounts using Gmail, Outlook, and Apple Mail.
Still, despite these limitations, the free version does have some neat features. For instance, you can add a disclaimer to your signature, which can be useful when trying to protect your business and stay compliant.
📌 Key Features

Works with Apple Mail, Outlook, and Gmail

Direct signature import feature

Can add a disclaimer

✅ Pros

❌ Cons

Very convenient to use with the three supported platforms.

Has a free trial you can use to access premium features for free

Only works with Gmail, Outlook, and Apple Mail

Most features are only available with paid plans, but there is a free trial option

💲 Pricing

Free for the basic features, paid plans start at $7.95 per month

🛠️ Tool Level

⚙️ Usability

Integrates as an email extension, providing a seamless experience
💡 Helpful Tip

Utilize the free trial to get an idea of whether the paid features are worth it. No credit card is required.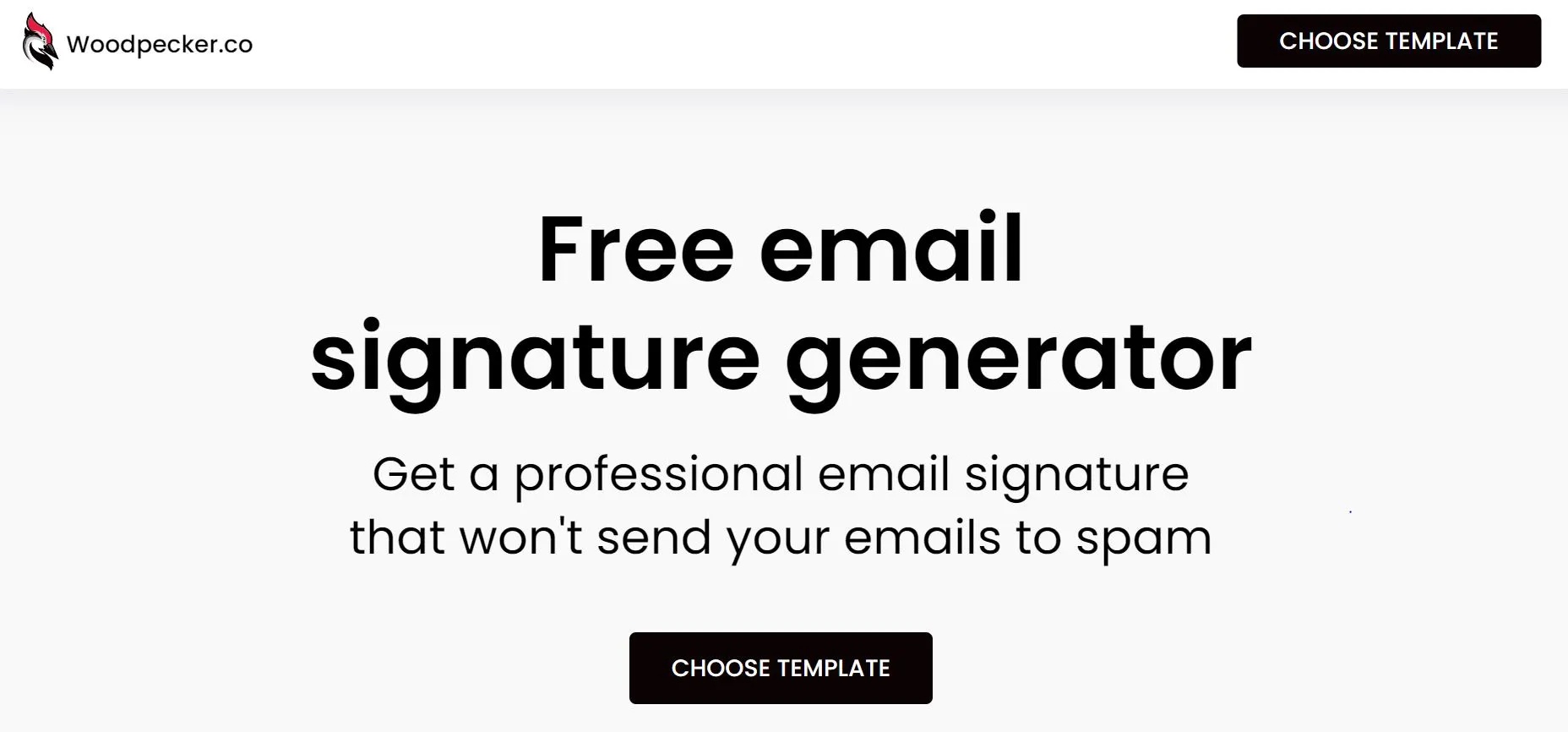 If you're looking for a truly free email signature generator, Woodpecker is a nice and clean option to consider. They don't have any premium plans, no hidden payments, or limited features for free users. Instead, you can choose from a selection of templates, type in your information, and start using your signature in minutes.
The good thing about using a simple tool like this to create your signatures is that it usually results in very good deliverability and compatibility. The simple and user-friendly email signatures mean that they rarely get flagged and will usually display correctly on any email provider.
📌 Key Features

7 Templates

Add directly to email client

Font, color, icon options

✅ Pros

❌ Cons

Very straightforward

Deliverability-friendly

No fees or subscriptions

Limited customization options

Few templates

💲 Pricing

🛠️ Tool Level

⚙️ Usability
💡 Helpful Tip

Even though this tool is geared towards individuals, you could make it work for a small team as well. Send the HTML code to your colleagues so that they can tweak the same signature with their info.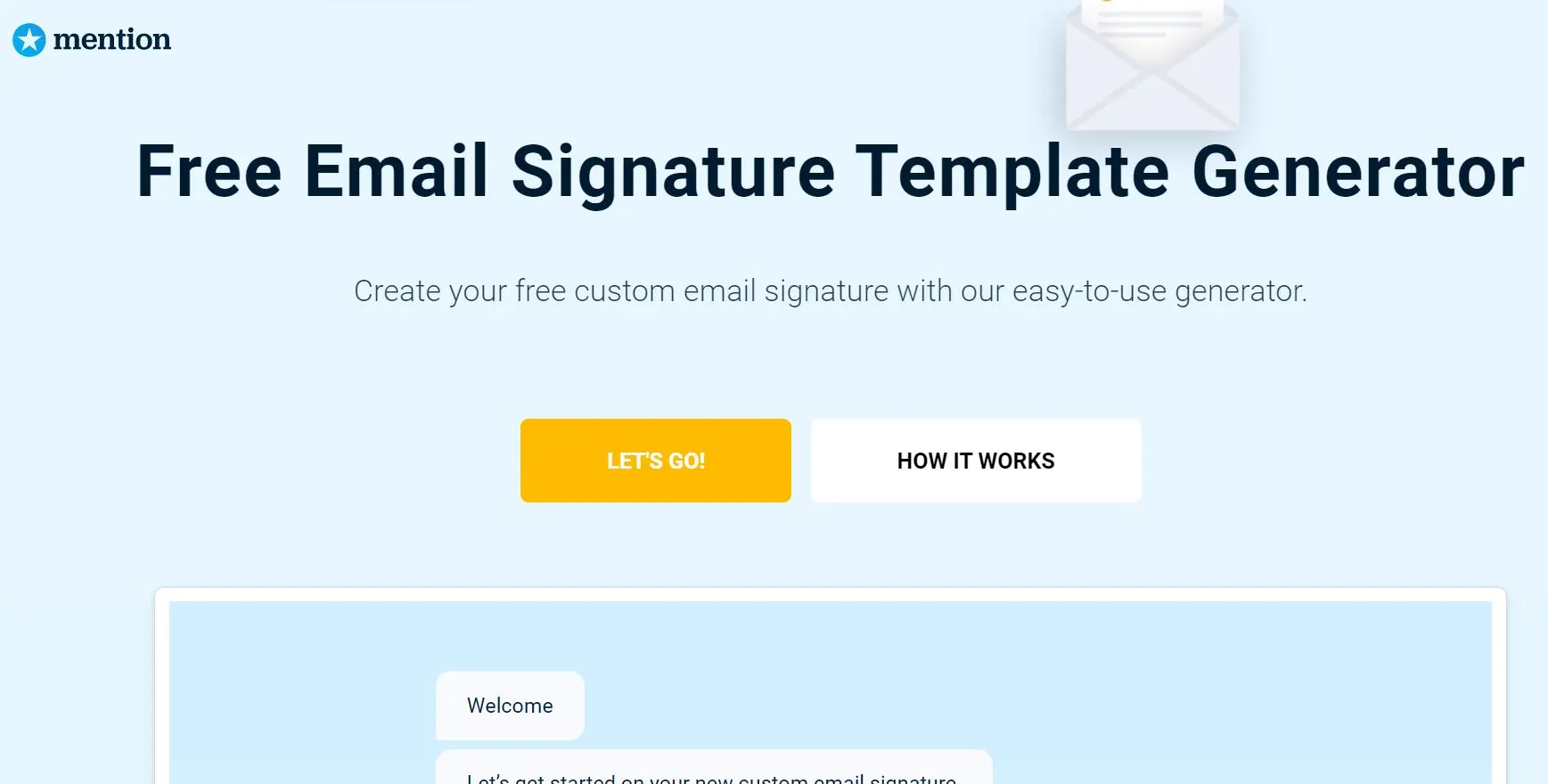 Another good free option to consider is Mention, which offers a way to create simple but neat-looking email signatures using a six-step process. You simply select a signature template design, enter your details, add social media links, personalize the text and colors, upload images, add a CTA if you want, and you'll be ready to add the signature to your emails in no time.
The tool also provides clear instructions on how to add signatures to different email clients, which can be very useful to more novice users who may not be entirely sure of how it should work.
📌 Key Features

6 templates

Customizable fields

Custom CTA

✅ Pros

❌ Cons

Various personalization options

Can add a CTA button

Easy to upload images

💲 Pricing

🛠️ Tool Level

⚙️ Usability
💡 Helpful Tip

Among the free tools, the ability to add a personalized CTA button is not common. So make sure to take advantage of this feature if you opt for Mention.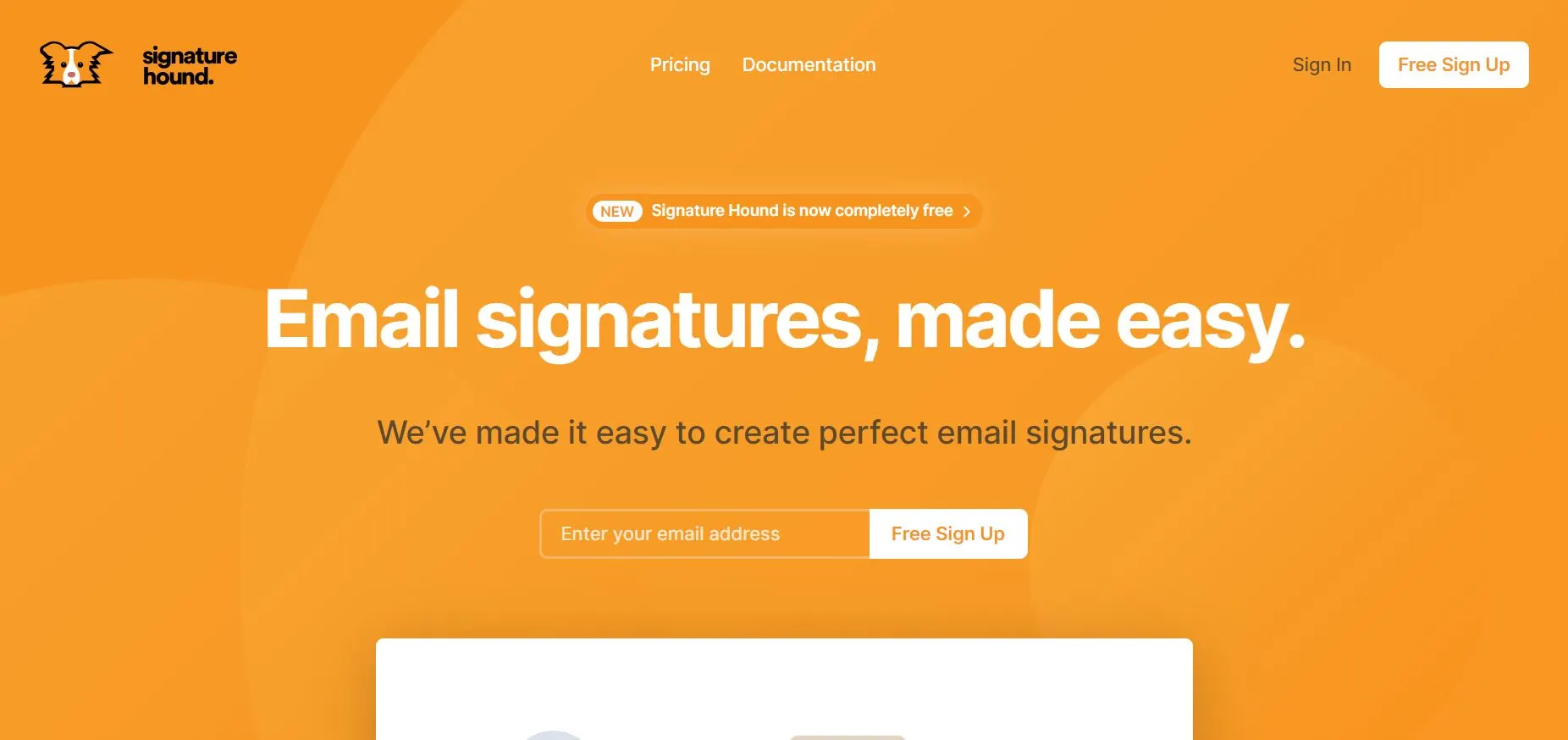 Signature Hound makes creating beautiful, branded signatures easy. You can customize every part of the signature, all the way to icon size, spacing, and colors of various elements.
Signature Hound is built with user experience in mind, and you can feel that from the moment you start using it. Uploading images is very easy, and there's also a neat uploading process that allows you to select the email services provider you're using and shows you visual instructions on how to install it.
📌 Key Features

Recently became completely free

Extensive customization options

CTA button

✅ Pros

❌ Cons

Very simple to use

Can make the templates your own

Easy to install

Can upload custom templates

Few default template options

Need to register

💲 Pricing

🛠️ Tool Level

⚙️ Usability

Create your profile, choose a template, and start personalizing it in minutes
💡 Helpful Tip

Signature Hound offers seasonal CTA banner options, which can be a great way to boost engagement and draw attention to your offers.
Newoldstamp - Premium Solution with Advanced Functionality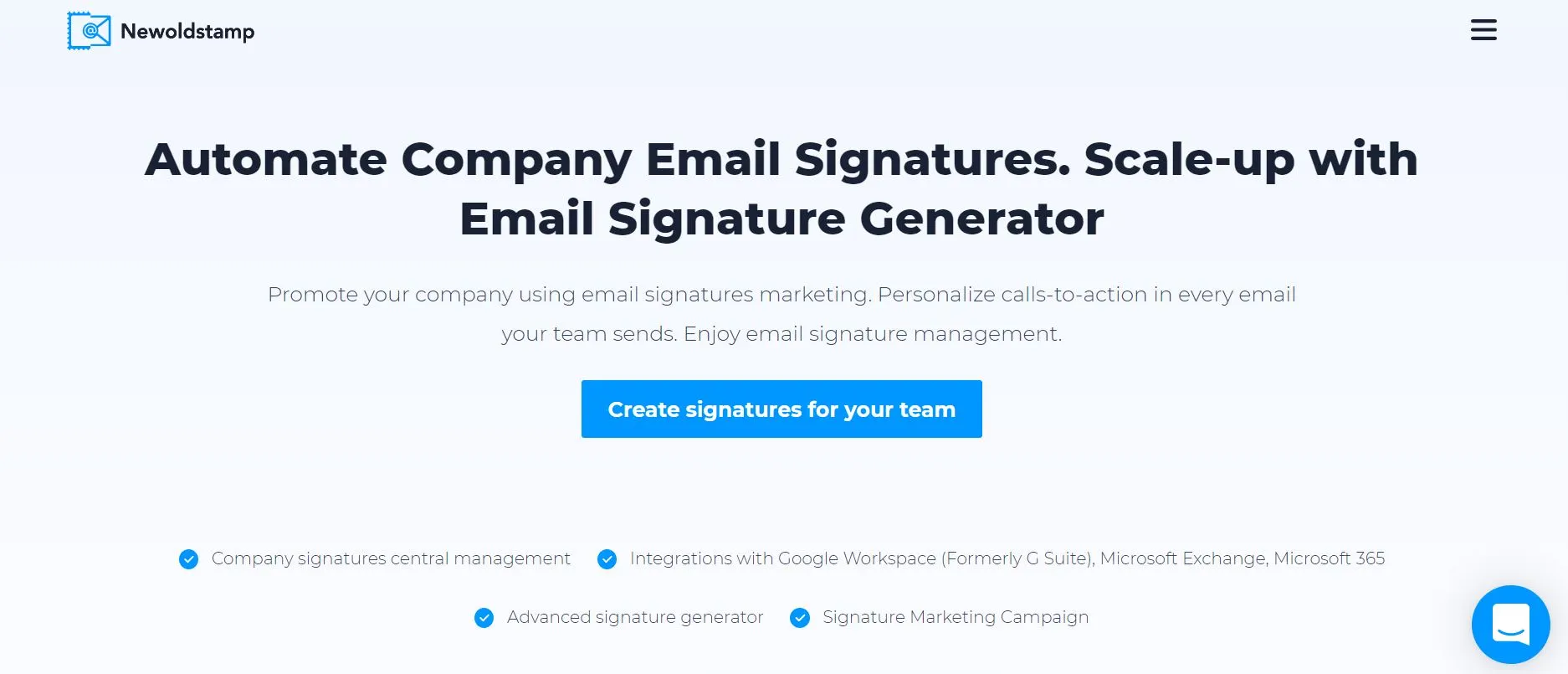 Email signature marketing can become the driving force behind your business growth. But for that to happen, you need a premium solution that provides you and your team with the tools to engage your audience with every email you send out.
Newoldstamp is a leading email signature management solution that comes with advanced signature design options, many integrations, and the ability to track performance, making it ideal for enterprise and medium-sized companies. With Newoldstamp, you can:
Manage email signatures centrally for the entire company;

Send email signature banner campaigns;

Integrate with Google Workspace (Formerly G Suite), Exchange, and Microsoft 365;

Utilize built-in email signature analytics;

Access a vast amount of applications like Marketplaces, CTAs, social media buttons, and more.
Start your Newoldstamp free trial today!
What is an Email Signature?
An email signature is the bottom part of an email. Usually, it includes a sign-off and the essential information about the sender such as their name, position, company name, website address, additional contact details, relevant links, and even a call-to-action designed to compel the reader to take action.
In other words, it's a way to allow the recipient of an email to quickly understand who the email is from, how they can reach out, and what the person can offer them.
Why Do You Need an Email Signature?
Many people still use simple sign-offs with little more than the sender's name. And while that can work fine in some situations, it can also be very limiting in terms of what the email signature can help you accomplish.
In fact, having a professional email signature made using a signature maker can offer you a range of benefits that can make it one of the most powerful marketing and business tools in your arsenal.
Let's look at some of the most compelling benefits that creating a free email signature can offer.
It's Professional
The way you represent yourself in email conversations matters, especially when reaching out to someone for the first time and establishing trust. You need to portray that you are a professional in your field who cares about their image online, providing the recipient with all the information they might need about who you are and how you can be reached.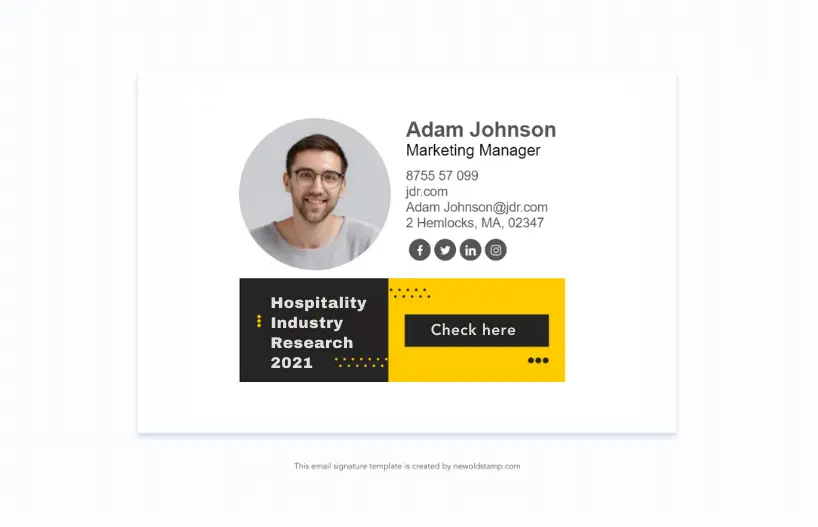 Provide Contact Details
If you want to maximize the response rate to your emails, you need to make it easy to reach out. And that means the option of sending a reply may not always be enough. Using a free email signature template will help you arrange your website, phone number, email, LinkedIn, other social media, and other contact details in a way that's easy to access.
Add (and Collect) Social Proof
One of the biggest advantages of using a professional email signature is the ability to add social proof elements that showcase the value of your services. Using a free email signature generator allows you to play around with email signature banners and include a customer testimonial that highlights what you did for them and why they enjoyed working with you. At the same time, you can use your email signature as a way to encourage people to leave a review as well.
Boost Brand Awareness & Drive Traffic
Utilizing every opportunity for raising brand awareness is essential if you want to make your prospects more responsive. Whether you're representing yourself or a business, you want to introduce what your brand is and what you offer in every message, and email signatures serve as a great way to include essential branding elements that familiarize your prospects with your company. What's more, adding a link to your business website can lead to additional traffic.
What to Include in an Email Signature?
The amount of information you could include in an email signature is virtually limitless. Each business and even each email communication is different, which means each situation might benefit from different email signature options.
That being said, there's a list of common email signature elements that are popular for a reason; they allow businesses and entrepreneurs to provide the most important information while also highlighting the messages or links that you want the prospect to focus on.
Let's go over some of the most useful information you could include in your email signature below.
Your Name
You'd be hard-pressed trying to find an email signature (or any email signoff) without the sender's name. Even the most informal sign-offs include at least the first name, and any good email signature should include the full name of the sender so that there's no confusion about who the message might be from.
In the vast majority of situations (and in most email signature templates), the name goes on top above all else or next to the image so that it's the first thing the email reader sees when they scroll down below the body of the message.
Job Title and Company
Next to the name, most people choose to add their job title and the company they represent (if any). This information can be just as crucial as the name itself since in business communications understanding the context in which you are reaching out is crucial.
At the same time, giving yourself a job title, job description, and company affiliation instantly adds a lot of credibility to your message. When you add this info to the email signature, you're no longer just a random person reaching out, but someone who can solve a specific problem or offer services they might need.
Additional Contact Details
Email remains an indispensable tool for communicating with prospects, clients, and business partners. But it's not the only way you will need to communicate. Therefore, it makes sense to add other ways to reach you in the email signature in case the recipient wants to reach out.
The most common additional contact information you could add is a phone number, but it can also be a website or even a Calendly link for scheduling meetings. Having your contact information in one place also allows you to reduce the number of back and forth messages, which would be inevitable otherwise.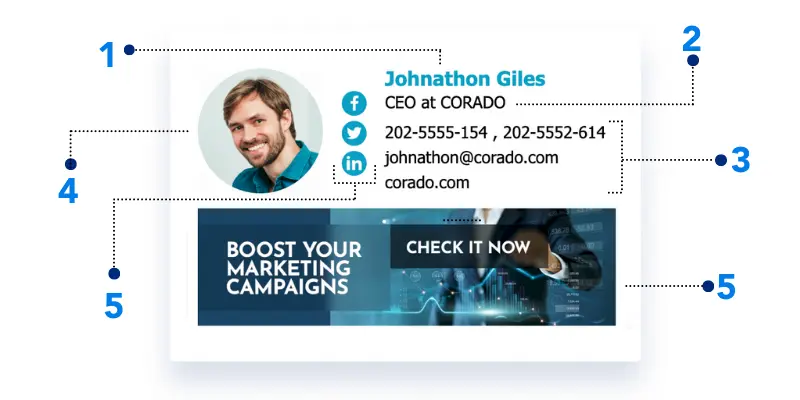 Photo and/or Company Logo
Visuals are one of the most effective tools for drawing attention to your email signature. At the same time, a professional photo of you in an email signature can be very helpful in providing more personality to your messages and building stronger links with people you may not know yet.
As mentioned before, adding a company logo can be a great way to raise brand awareness and tilt the odds in your favor against the competition. If someone remembers your brand and what your company can offer, they will be much more likely to opt for your services once they are ready to make a purchase.
Social Media Icons
It's difficult to imagine a successful brand without any social media presence. Therefore, whether you're a one-person business or part of a larger company, it's important to utilize every opportunity to grow your following and boost engagement on the social media platforms where you have a profile.
At the same time, the people you are communicating with through email may be interested to learn more about your business through social media, allowing you to gain additional followers who you can then engage through informative posts and promotions.
Call-to-Actions
Finally, you may want to add persuasive call-to-actions that drive people to take the actions that you want them to take. If you have a primary service or offer you want people to consider, it's a good idea to include a compelling banner or message that urges them to check out what you have to offer and directs them to a landing page.
Summing Up
Adding more information to your email signatures is almost always going to have a positive outcome on your business and relationships with clients. So, if you don't have any signature right now, any of these tools will be a significant upgrade that will allow you to showcase your personal brand, represent your company, and link to your best offers.
But if you want more control of how your signatures look and need the ability to organize email signatures across your company, it makes sense to use a more robust solution like Newoldstamp that can provide you with all the tools you need in one place.
Frequently Asked Questions
What are the elements of a good email signature?
The most important elements in an email signature are the name, title, department, contact info, banner, picture, and company logo. Not all of them need to be used, but they form a good framework to start with.
What are the best email signature generators?
Even though there are many email signature generators out there, few provide the customization capabilities, signature management features, and analytics options that Newoldstamp comes with.
How big should my email signature be?
The optimal email signature dimensions are between 300-600 px wide and 100-200 px high, although the exact size will depend on how much information you want to add, the screen it's viewed on, and a variety of other factors.