5 Integrations That Will Amplify the Power of Your Lead Nurturing
1. Integration With Landing Pages
2. Integration With Other Pages
3. Integration With Email Marketing
4. Integration With Social Media
5. Integration With Closed-Loop Analytics
Useful tools:
1. Newoldstamp - Email signature marketing
2. Mailchimp - Email builder and sender
3. Reply.io - Personal email outreach, calls, and tasks
4. RocketLink - Your branded short linker
5. Canva - Online tool for making designs
6. Leadquizzes - Engaging online quizzes
To increase the effectiveness and power of your lead nurturing campaigns, there's no question about it: you need to integrate them with other aspects of your marketing. In fact, it's actually impossible to run effective lead nurturing campaigns in isolation. They are so closely tied to landing pages, analytics, social media, etc., that you really need to view all these elements as part of an interdependent ecosystem.
So how can you ensure your lead nurturing is fully integrated with the rest of your marketing efforts? In this blog post, we'll explore some ways in which lead nurturing relies on and impacts other marketing elements, and exactly how you can take advantage of these optimization opportunities.
1. Integration With Landing Pages
Lead nurturing is all about pushing existing prospects through the sales funnel. Once someone has become a lead, he or she should be exposed to your best content that will help you, well, nurture them to eventually convert them into a customer. There are a few different ways to identify your top-performing content. One is by analyzing the success of your offers' landing pages in generating customers for your business. In a nutshell, the landing pages for your offers that yield the most customers should be the ones you feature in your lead nurturing emails.
Depending on the analytics tools you're using to track the performance of your landing pages, you can conduct an audit of your landing pages to identify those with the best lead-to-customer conversion rates. The HubSpot Landing Page Analytics tool, for example, enables users to sort their landing pages by the number of customers acquired, so they can see which middle-of-the-funnel types of content result in the most customers. For HubSpot's marketing team, for instance, we've learned that live demo requests and free trials yield the most customers, so we use these types of offers in our lead nurturing campaigns to drive leads through the funnel.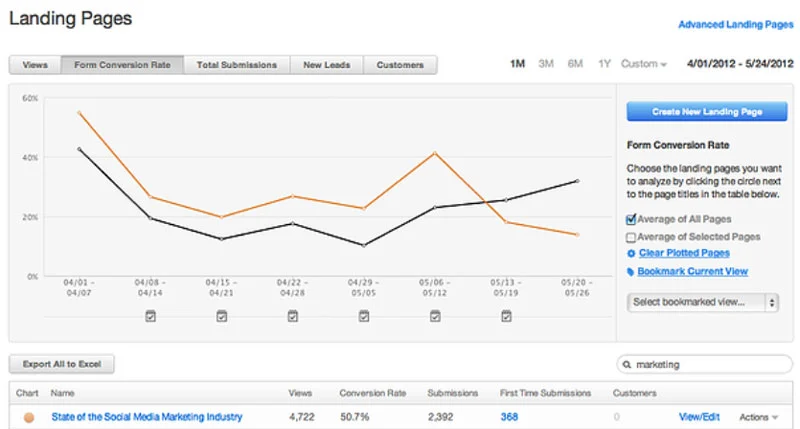 Next Steps
Look at the analytics you have for your landing pages and identify three to five offers that seem to have the best potential for converting leads into customers. If you don't have such offers yet, brainstorm some middle-of-the-funnel offer idea that you can create. For example, you could easily start offering a free consulting session or turn a customer case study into a downloadable PDF.
2. Integration With Other Pages
Besides offer landing pages, you can use your lead nurturing emails to promote other web pages that help you acquire new customers. For instance, your case studies or testimonials page(s) could be pages you might want to include in a drip marketing campaign. To identify which of your web pages are influential in converting leads into customers, you'll need access to a report that shows you which of your website pages yield the most customers.
A conversion assist report, like the one available in HubSpot's software, will tell you which of your website pages impacted the buying process by helping leads come to a purchasing decision. Just as with landing pages, high-ranking pages in conversion assist reports should be included in your lead nurturing campaigns because they have the highest probability of converting leads into customers.
Next Steps
Using a conversion assists report, look at your all of the pages on your website and identify a top performing pages containing resources that will provide an additional incentive or reassurance to leads in your funnel. Examples of such pages might be your media coverage page, your mission page, or your awards page. Sprinkle these resources into your lead nurturing campaigns to leverage their power as influential pages on your site.
3. Integration With Email Marketing
As you're setting up your lead nurturing campaigns, you should be able to reuse content that you've already created for your other email marketing programs. So if you've already drafted an email to send for an individual email promotion, and that promotion performed well, there's no reason why you can't reuse that same copy in a lead nurturing email (just be sure to suppress leads who had already received that email in the past). So much in marketing can be made more efficient by repackaging content, after all!
Next Steps
Look at your email analytics (hone in on metrics like click-through rates and conversions rates) for the individual email messages you have sent in the past, and identify a few successful ones that you can use in your lead nurturing campaigns. Just make sure that they feature some evergreen content and offers that will sustain the attention of your audience over time.
4. Integration With Social Media
Incorporating social elements into your lead nurturing emails encourages the sharing of your content by your recipients and can impact the overall effectiveness of your lead nurturing campaigns. People are naturally inclined to share the content they enjoy reading, so as a marketer, you should make that sharing process as easy as possible for your email recipients. It continues to show that social media isn't just a platform for B2C companies. Furthermore, consider the stat below, which demonstrates the correlation between successful social media lead generation and email integration:

So in what ways can you integrate social media into your lead nurturing campaigns? The two main ways include adding social media sharing links and social media follow links to your email messages. Adding social sharing and follow buttons to your emails is easy and can have a huge impact on your reach and click-through rate (CTR).
1. Social Media Follow Links: 'Follow me' links enable email recipients to connect with you via social with one click. This is a way to not only grow social reach but to also create more touch points for you leads to interact with your company. The more points of contact a lead has with your company, the more pervasive your brand and messaging will be among to that lead.
2. Social Media Sharing Links: GetResponse analysis reported that email newsletters with social sharing buttons had a 115% higher CTR than those that didn't. When nurtured leads share your content with their networks, it extends the reach of your content and brand. Social sharing can also create new leads while nurturing the existing ones.
Next Steps
Ensure your email messages include social media follow and/or social media sharing links. Consider looking at click tracking to identify which type of social media links generate the most engagement from your audience. Do your leads enjoy sharing your content more than following you on these social channels? If so, you'd probably want to prioritize including social sharing buttons over including social follow buttons.
5. Integration With Closed-Loop Analytics
In order to understand the true impact of your lead nurturing campaign, you need to have an integration with closed-loop analytics so you can track the number of customers you're generating from your efforts.
Closed-loop marketing allows you to closely track a lead's journey through the sales funnel, from the point when they become a first-time visitor to when they turn into a paying customer. Knowing this information enables you to get full insight into the pathways through which your leads travel, and bringing to your attention the parts of your sales funnel you should invest more time into. It's essential to integrate closed-loop reporting into your lead nurturing system because it will enable you to fully understand the process a nurtured lead went through before becoming a customer so you can tailor future efforts accordingly.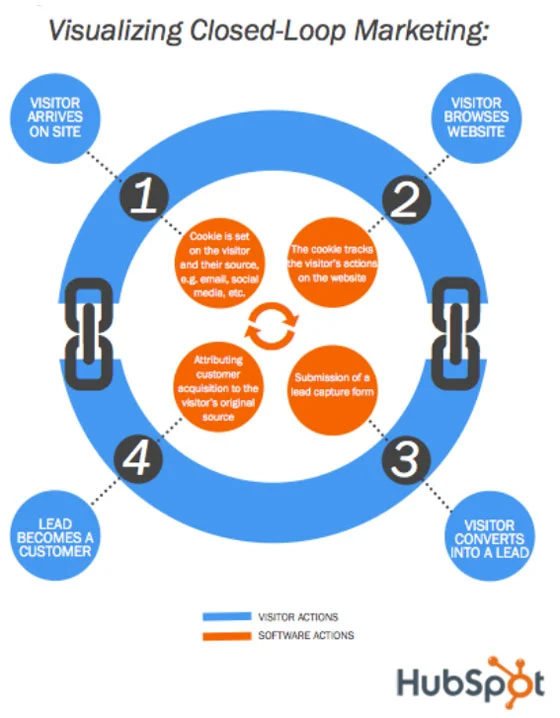 source: hubspot
Next Steps
Using closed-loop marketing, figure out which of your lead nurturing campaigns and emails resulted in new sales for your company. Compare them to the rest of your drip marketing and email marketing efforts, and look out for a pattern. Is there a way you can leverage what's working in certain campaigns and eliminate or modify campaigns that are underperforming?
This blog post is an adapted excerpt from HubSpot's ebook Optimizing Lead Nurturing: How to Segment & Integrate Campaigns. Download the free ebook in full to learn how you can optimize and improve the performance of your drip marketing.