Modern communication is all about smartphones and the Internet. How do you create a lasting impression online? Do people remember you after the first conversation? Of course, your social skills are important, but what if you use emails in your professional deeds? Email signatures are what can truly enhance the impression you make on your partners and simply make you a remarkable person.
That is what we had in mind while seeking bits of advice and tools for creating a truly effective email signature. These dos and don'ts without doubts will become your best helpers on the way to triumph!
1. Try to put everything in three or four lines of text. Basically, all you need is a name, a job title, a company you represent, and social links – a phone number and other contacts. Once you created a basic design and content of your autograph, the time has come to personalize it. This will make your signature memorable.
You should add some links to your social media accounts. In this case, everything works. However, consider adding the links to accounts that will work properly for your professional image. If your Twitter account is filled with dirty jokes and memes, better leave it for your friends. LinkedIn profiles are assumingly the most effective for professional contacts, but you are free to add any other link if needed. Facebook, Instagram, 500px, YouTube are everything that may help depict your professionalism and product. Talking about products…
2. Demonstrate your achievements and works in an email signature through adding links. It might be a product you want to share with the world (literally: make profitable) or a blog post (or the entire blog) that expertly outlines what you offer. Sharing this would make your email signature look both professional and exciting.
3. Add a wake-up call to your online autograph. We mean a line of text promoting your receiver to take actions. Such inclinations work just fine with the human mind. For instance, it can be something like, "Attend an event this week!" which is simultaneously an annunciation and a link to actual event's social media page.
4. Do not overstuff your email signature. It will indeed decrease the chances that someone wants to visit any of your social media profiles or contact you. This phenomenon is called the Paradox of Choice, and it works without exceptions. As it has already been mentioned, it would be enough to add a name, several contacts, and your title + company. Here's a good example of excessive information from The New York Times: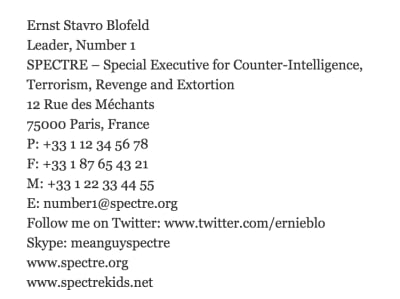 5. Remember: adding an image is essential. It can be a logo of your company or a banner. However, including your photo turns out to be the best way for a personal recognition in further interconnection. There are certain tips to make your photo look appropriate for an email signature. You should look both cheerful and professional on it. Therefore, no party looks and beach suits. There are time and place for everything. Admit that, according to recent research, black and white images are less memorable than color ones.
6. "Sent from my iPhone" is also a thing. However strange it might sound, but this simple 19-character signature can improve your image. No, it is not the fact of you having an Apple smartphone that is perceived as credible. This signature subliminally informs the recipient that you are on the go but yet found a minute to reply, which is a nice depiction of your respectful approach. Recent research shows that sloppy messages with lots of typos will be forgiven if you include the "Sent from my iPhone" text.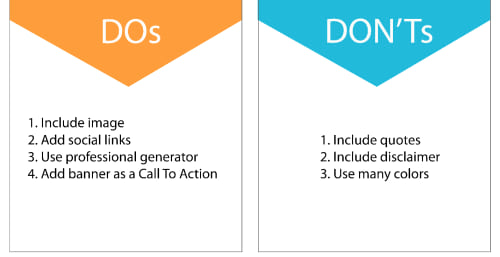 Popular Mistakes With Email Signature
First impressions count, so try to present yourself in a professional manner with a right email signature. You should leave a lasting impact on others.
However, the part of an email you may not be checking sometimes is exactly your email signature. It's easy to forget to check details that matter. It could be a spelling mistake, typo or a missing logo.
Try to optimize a signature and fix the following mistakes before sending an email:
Avoid quotations – leave your personal sayings to Instagram and Pinterest.
Spelling and grammar – good spelling and grammar are really important in getting your point across. It isn't excusable to make grammatical mistakes and sending "pardon the typo... sent by iPhone".
Do not use an image as your signature – instead, make your signature professionally coded.
Avoid large and unprofessional images – try to keep medium size images and a photo. As well, large images can take forever to upload.
Do not use too many colors – the diverse color palette in your email signature design can simply overwhelm and distract readers.
Avoid listing every social media account – showing too many social network icons can impact on growing your brand.
5 Examples of Professional Email Signatures
An email signature is more than just your contact info and photo. Well, it's a part of your branding. One of the main goals is to encourage reader response and catch the eye in a really good and unforgettable way.
Let's review some tips for creating an attractive template:
Email signatures must be connected to the most of the web-based email services like Gmail, Yahoo, or Outlook. Further, they have to contain a clickable method.

Keep your email signature simple and try to avoid too much info and distracting images.

If you run a startup or own a business, it would be nice to add a corporate look to your signatures. It will be a definite thing to create a logo and add promotional banners.

Don't overthink your email signature design and limit it to 3 or 4 lines of text. Moreover, show your social media profiles that link with your professional brand.
If you are looking for additional inspiration to put together a good signature and personal branding, we have prepared a list of five of the best well-crafted email signatures for business – they've been created using NEWOLDSTAMP:
Bloggers: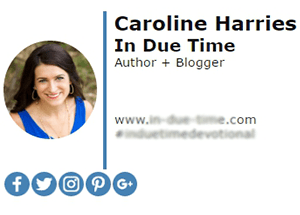 Creative: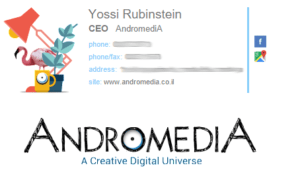 Double Logo: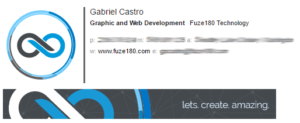 Managers: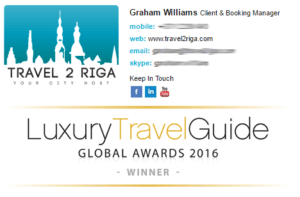 User Photo and Logo:
Now that we figured out some essentials, let's talk about the most effective services for creating email signatures. We chose NEWOLDSTAMP as our favorite team. Therefore, we will start with this team as a measurement standard.
NEWOLDSTAMP is a convenient solution for everyone who wants to create a single email signature or supply the whole staff with it. Having a plenty of various benefits, NEWOLDSTAMP is best known for providing its customers with the possibility to create their own email signature and use it multiple times during the free trial period. It helps them understand how great it is to use a beautifully crafted online autograph and choose the right payment plan. A variety of cool templates and their modifications can fit even the most selective taste. And, of course, it allows adding multiple banners, photos, social media links with icons, and much more.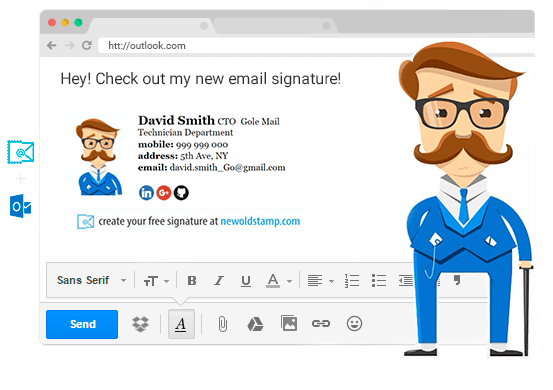 WiseStamp works for people who need to permanently keep their signature up-to-date. It integrates with your email account and automatically uploads recent content to your signatures.

htmlsig is perfect for devoted minimalists. Your email signature will contain just enough information without unnecessary frills. Simple yet effective.