7 Things We Learned From Web Summit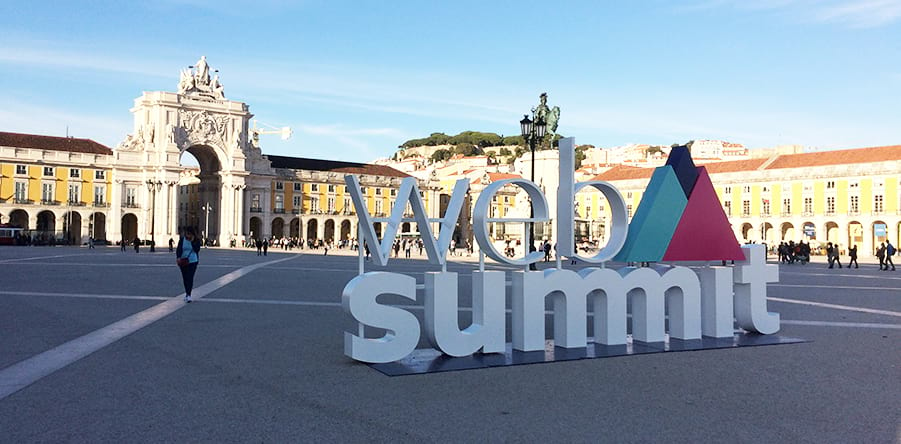 A couple of weeks ago, we were intensely preparing for Web Summit. We came up with an action plan of 7 ways to get our startup noticed at the conference. Before the event, we changed our email signature including conference banner, created a conference kit, and set up meetings.
Although we put a lot of effort into trying to get the most out of our Alpha Startup day at the event, we learned that there were a couple of things we should have done differently.
If you are planning to go to Web Summit 2018 to promote your startup, here are some more of our tips.
Don't wait till last day with handing out materials
The Web Summit organization doesn't let you decide which day your company can exhibit on the conference. We were scheduled on the third, and last, day of the event. Even though we knew this was not the best day to have a stand, we still had high expectations. That's why in the days before we were too greedy with our materials. Our stickers and cards with promo codes didn't go as fast as expected when our day came. Attendees are usually tired from partying and other companies and investors are tired of hearing pitches.
In retrospect, we should have started to spread our materials from day one. Not just at the event but also at the side events.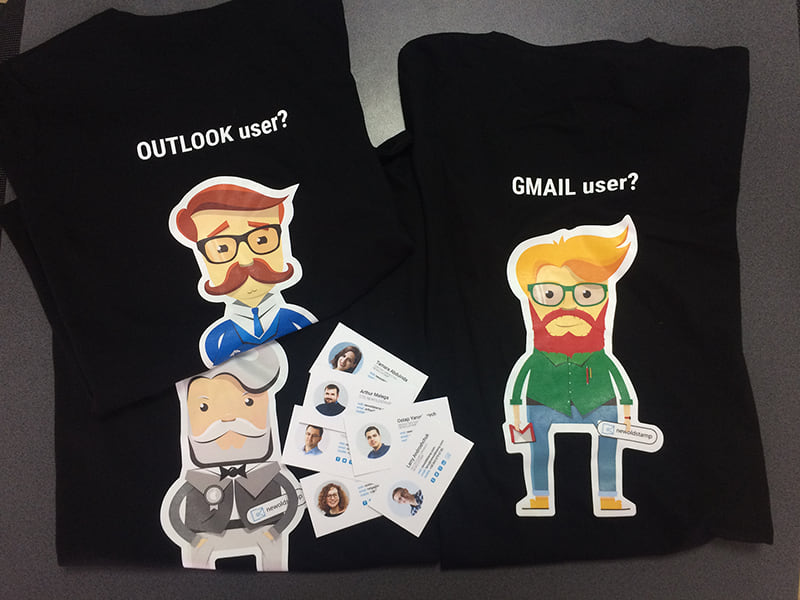 Spend more time outside the event
Somehow we still didn't spend enough time talking about NEWOLDSTAMP outside of the main conference. We prepared to do so and even wrote about it but depended too much on our Alpha stand to catch attention. There's also the factor that most people just want to relax and not talk about work anymore after the event.
Still, it's better to try to involve people in a natural way or at least hand out your giveaways, so they can look up information later.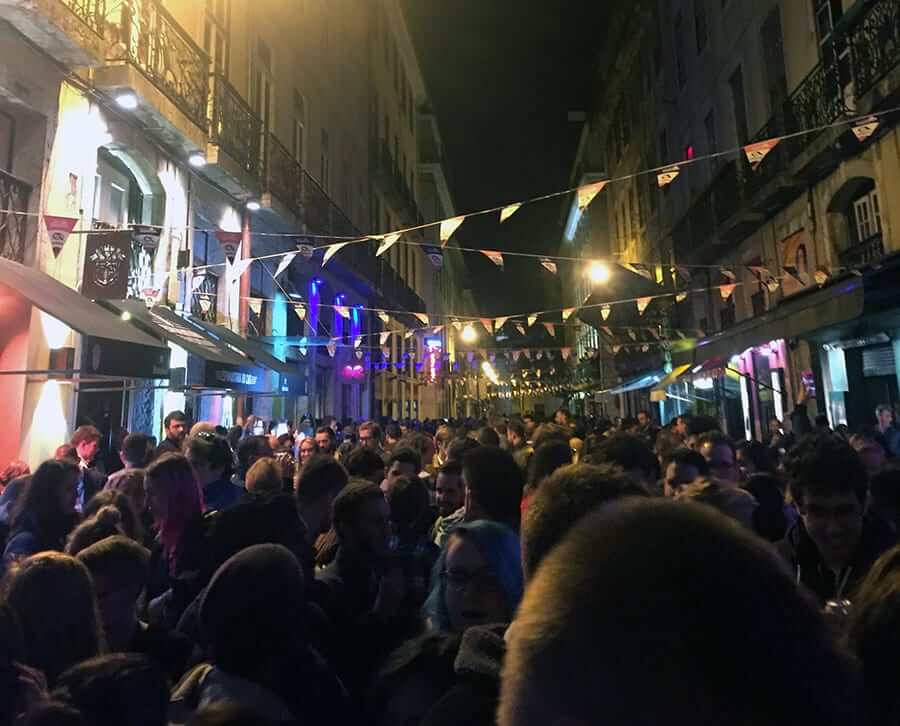 Spend more time on networking and less on attending talks
Some of the talks on the conference program are definitely inspirational and worth a visit. But if you are at the event to promote your startup, or find investors or customers, you should dedicate most of your agenda to doing that. This means actively seeking out people to talk to and generally spend more time on networking during these 3 days.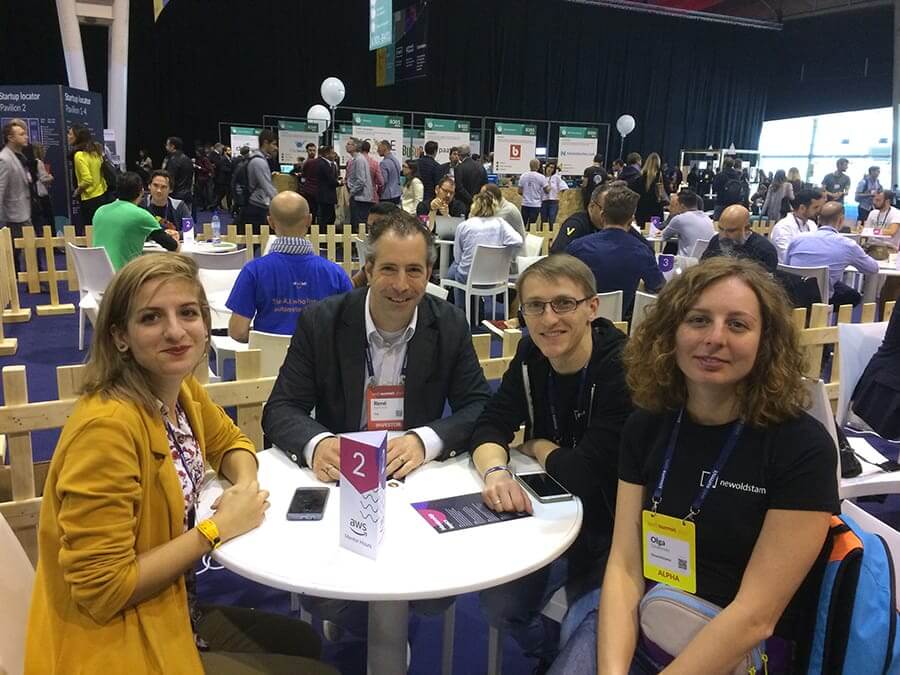 Pick your lunchtime wisely
On the first day, it took our team more than an hour to get something to eat. Overall, there are plenty of food carts and there's are plenty of absolutely delicious options. Our mistake was getting hungry at the same time as ALL other participants on the first day. Around 1 pm all scenes take a break from their program for lunch. Since the first day was also the busiest, everyone lined up at the same time for food.
For next time, it's better to have a big breakfast on the first day and try to grab lunch a little bit before or after the crowd.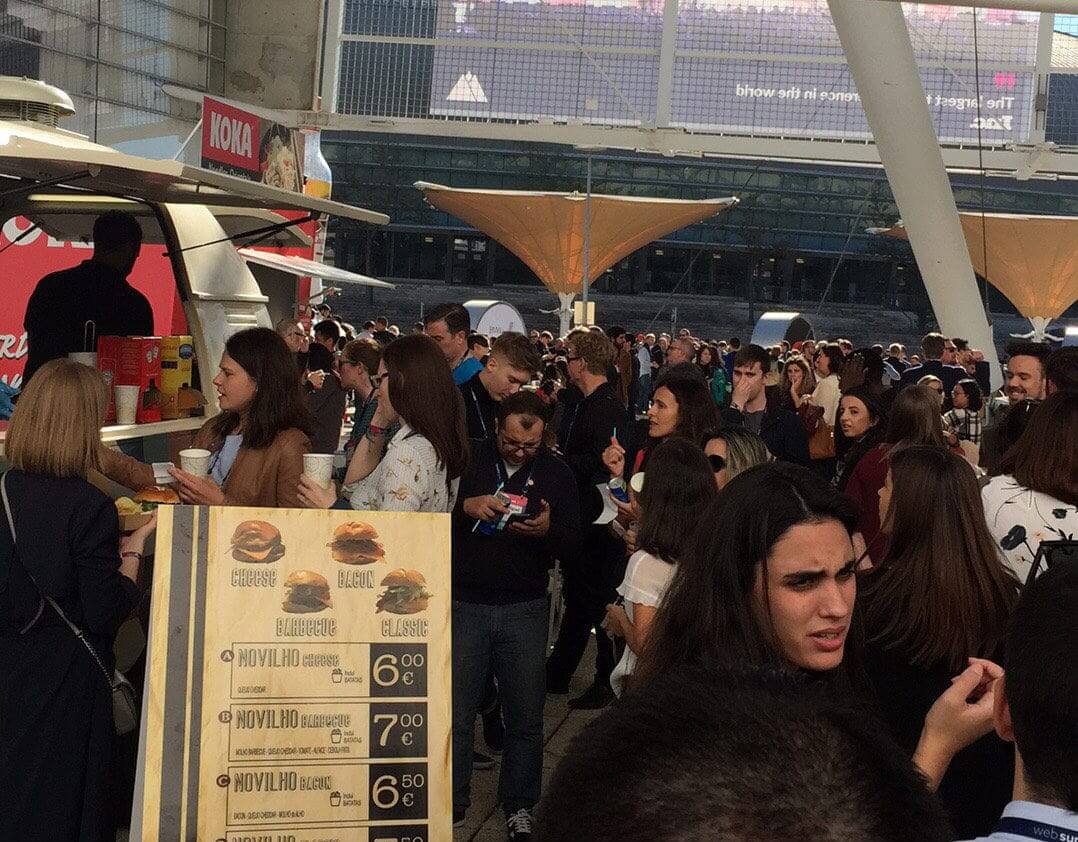 Scan AND ask for business cards
The Web Summit conference app is very handy to grow your network. Everyone at the event wears a badge and when you scan the code with your phone, it will save their contact details. In reality, it didn't always seem to work and sometimes the code was broken. So in addition to scanning, it's a good idea to also still collect business cards. Not only will you make sure to get everyone's correct details, but it also helps to remember someone's face or the company they work for in more detail.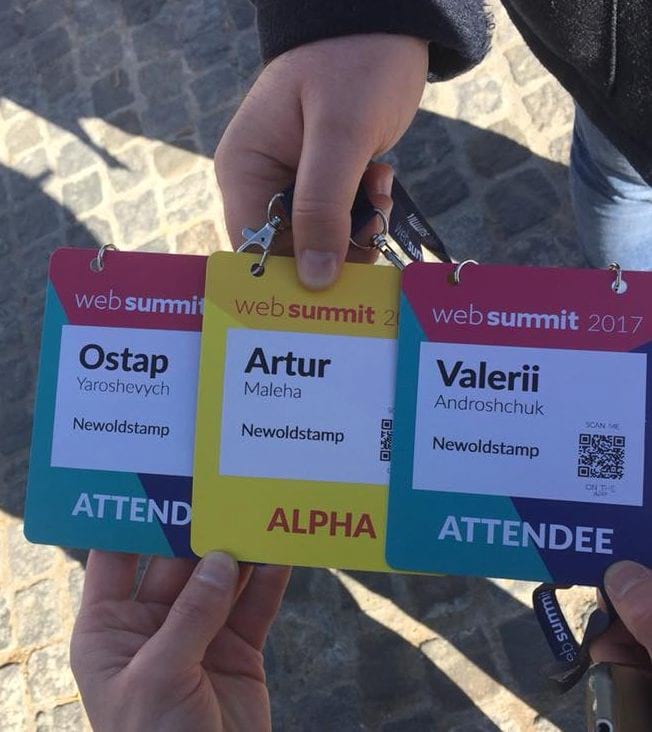 Bring tablet in addition to laptop
For anyone to get a better idea of what NEWOLDSTAMP's product does, we decided to demonstrate it right at our booth. This meant that there could be two people at the same time wanting to see our generator. Our neighbour didn't really like this. Sometimes we also walked away from the booth to talk to people. So, in this case, it would have been a great addition to bring a tablet to be able to step away from the stand and show people our product.
Spread your gadgets, flyers, cards
After lunchtime on our Alpha day, we noticed we still had a stack of promocode cards and stickers that was way too high. As soon as we started actively handing them out and mentioning the freebies, people became more interested. Investors that previously cringed at the thought of another pitch became more relaxed when we told them we are not looking for investment, but just to get the word out.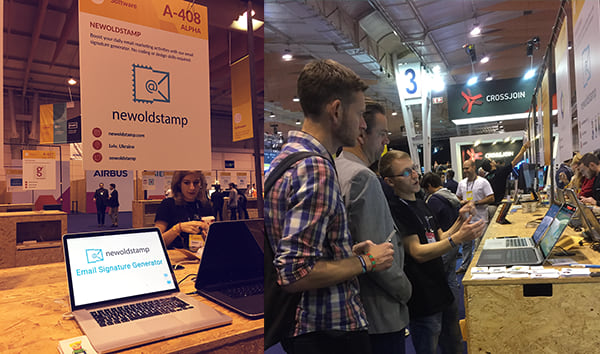 Luckily, the week was overall successful for us. It seems like we had some serious interest and people have started to use our code to test our email signature generator.
If you are planning to attend next year, keep these tips in mind and share your experience with us!